A new way to serve homecooked meals
News | Published on October 7, 2021 at 2:57pm EDT | Author: Chad Koenen
0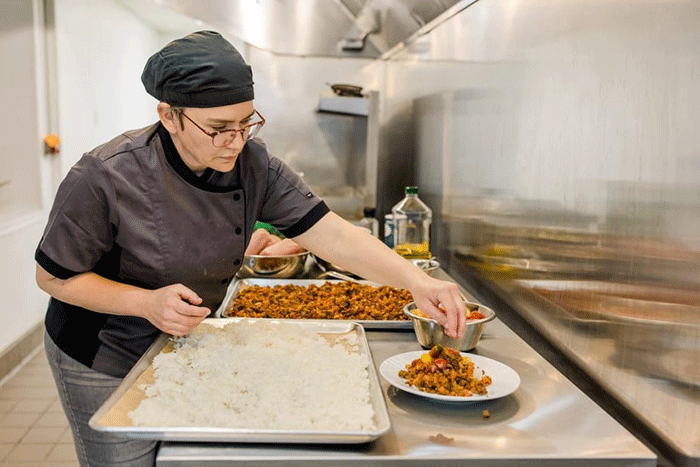 Rural Vergas woman starts Eat Outside the Box
By Barbie Porter
Editor
Back when the idea of wearing a mask other than on Halloween was foreign, Terra Huff was on a leisurely drive with her husband.
The rural Vergas resident noted one of her co-workers had suggested pre-packaged frozen meals were a way of life.
"I said, people don't know how to eat outside the box," she recalled.
Her husband pointed out that would be a perfect name for her business. See, for a long time Huff has dreamed of providing home cooked meals to families, young professionals, senior citizens and anyone who might lack the time or desire to cook healthy meals. But, going after one's dreams sometimes needs a jarring event to push one to leave their comfort zone. For Huff, the moment arrived after the pandemic put life on pause.
Huff had long considered offering a meal service to area residents that provided them with a home cooked option where the food was fresh and packed with nutrients. The idea became more feasible as she found herself at home and with more time on her hands.
"I started really thinking about what I love and what I am passionate about," she said. "I love working with food; cooking meals with color and flavor."
She said her passion was ignited after she began paying attention to how eating nutritious meals impacted her. She went from low energy to lively, which led to a better quality of life. 
Huff decided there was no time like the present to begin living a dream, and looked into what steps she would need to take to offer the homecooked meal service to the lakes area. A commercial kitchen was a top priority.
When Cross Fit expanded their gym service in Detroit Lakes, a former restaurant that specialized in ribs was acquired. The kitchen was empty and Huff was provided with the opportunity to cook at the facility.
She got licensed in February of 2021 and opened in May. She said the business has seen steady growth.
Anyone interested in purchasing a meal, which averages $10 per serving, can decide monthly what they want for meals. Some order one meal a week for one person, while others order several family meals for the week. There is no pre-set amount for each week, each customer can cater to their needs.
"There are 16 meals to pick from each week," she said, adding those with gluten free, dairy free or allergy specific diets can receive special meals not on the menu. Simply let Huff know when ordering. "I will make something special, just for them."
Huff said customers pick up the meals at the Cross Fit kitchen, 15857 U.S. Highway 59, Detroit Lakes. Limited lunch delivery is also offered to those working along Main Avenue in Detroit Lakes.
Eat Outside the Box is open to all, as are her health coaching and group nutrition classes. The classes are free, but one does need to register. Registration can be done online, www.eotb.live or on the Eat Outside the Box Facebook page. Huff hosts the group classes at 10:30 a.m. on Saturdays at Cross Fit kitchen in Detroit Lakes.
Any questions, reach out to Huff at (218) 849-4986.