Knotty Dog Boarding opens in rural Frazee
News | Published on October 7, 2021 at 2:52pm EDT | Author: Chad Koenen
0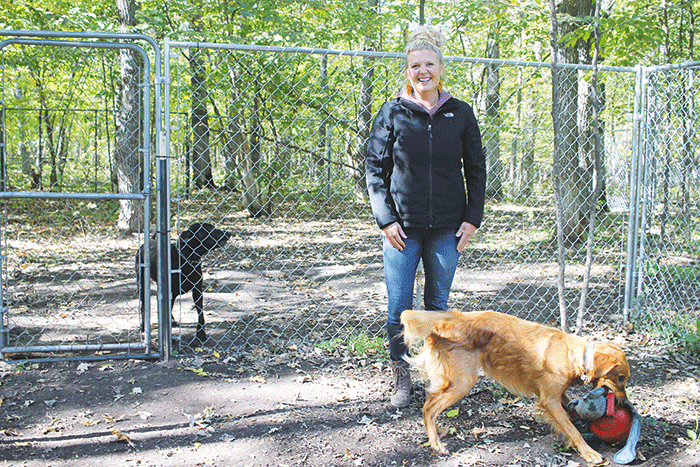 New business to offer boarding, daycare services for pets
By Barbie Porter
Editor
Katie Watland recently opened Knotty Dog Boarding and Daycare in rural Frazee where dogs get to be dogs.
"We have daily adventures," she said, noting that may include going for a trail walk or swim in the meandering Otter Tail River on their 70-acre property along Wymer Lake Road.
While most dogs will stay with the pack during a walk, Watland noted the trails are also fenced.
Booking for boarding is about two months out already, so those thinking of the holidays should make plans early. However, there are still options for daycare. For those unfamiliar with doggy daycare, it allows the pet to expend energy by playing with other dogs.
Watland gets to know each dog and their temperament, as she wants to keep it a safe environment for all.
"In ways, it is a lot like school, only I'm teaching and caring for dogs instead of students," she said.
Watland taught junior high students in Lake Park for 14 years. The 2020 Teacher of the Year finalist said after COVID-19 changed the dynamics of teaching, she decided spending time with her young sons (Jesse, Decker and Edison) was a priority. After a leave of absence from teaching, she decided it was time to try a new career.
With a long-standing appreciation for dogs and a gorgeous property, she saw a great opportunity for pet owners to care for their fur babies beyond the traditional kennel or daycare service.
"I wanted to offer a place where the parents know their dog is coming to play," she said. "We will have fun going for runs, skijoring, swimming in the river or playing with other dogs."
To make her vision a reality, Watland first "kicked" her husband out of the detached garage and created a heated kennel that offers separate spaces for eight dogs, each with their own food dishes, raised bed and access to an outside run.
"I wanted to keep it small to ensure every dog was getting attention," she said.
In addition to trails on the property, there are two large fenced areas with natural ground where the dogs can romp, sniff and relax.
For more info, call Watland at (218) 790-9456 or email knottydogboarding@gmail.com.