Seniors volley appreciation to teachers who showed kindness
News | Published on October 7, 2021 at 2:15pm EDT | Author: Chad Koenen
0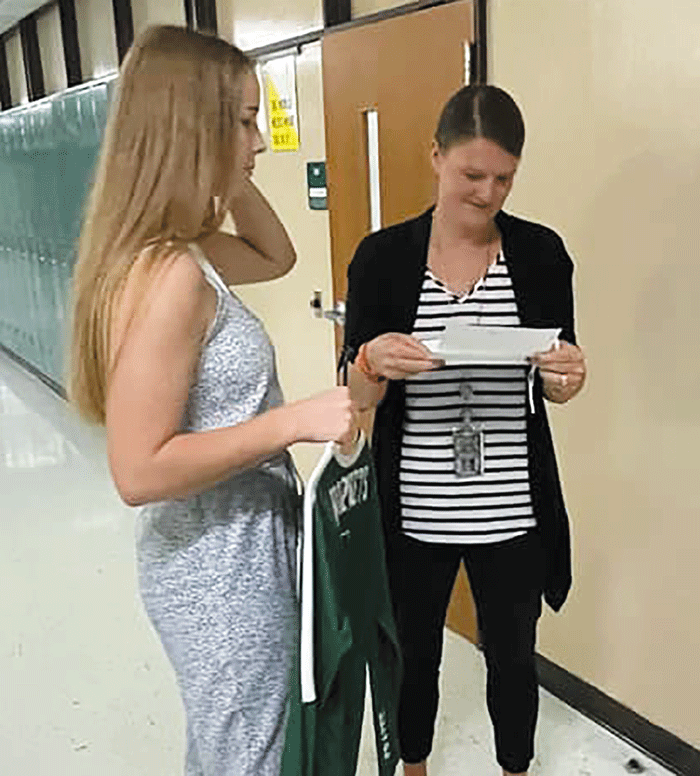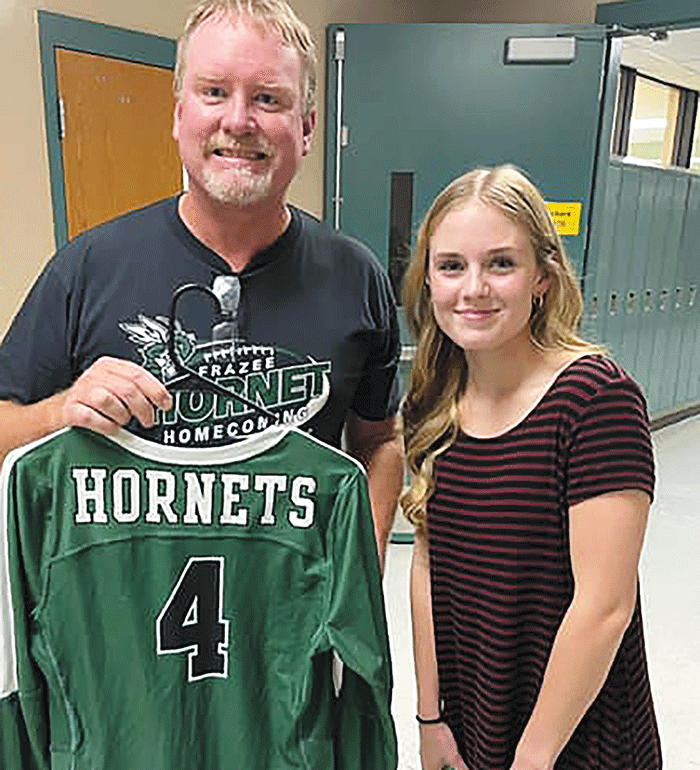 By Barbie Porter
Editor
Frazee High School varsity volleyball coach Molly Fairbanks asked her senior players to think of a staff member who went above and beyond to make their day, or improve their experience at the high school. When each student had someone in mind, she told them to write a letter of gratitude.
When the letters were done, the seniors were afforded the opportunity to present their letters and borrow their away jersey to the staff member.
Annika Reierson wrote her letter to elementary teacher Taylor Tappe, noting she has been a "huge mentor in her life in and out of school."
Reierson said when she had struggles on the court, Tappe would be there to coach her through and help her improve. The same mentorship and dedication was seen off the floor when the road of life got a bit bumpy.
Tiffany Lawrence presented her letter to social studies teacher Erica Ratz. The new teacher has made quite of an impression on the senior. Lawrence said from day one, Ratz has been approachable and offered a comfortable friendliness to students.
"Having someone like that when you need advice is important," Lawrence said.
Kiley Karger gave her letter of gratitude to band instructor Brian Selander. She noted her former band teacher left an impression on her, even though she is no longer in band.
"A college class conflicted with the time that band was offered, so I couldn't take band," Karger explained. "But Selander is one of the most kindhearted, genuine, positive teachers."
The trumpet player added band was her first class of the day for many years and provided a good start to the day of learning.
Payton Wothe presented her letter to physical education teacher Dave Conzemius.
"He is a teacher that always makes my day better," she said.
Wothe explained she was in his class years ago, but when they see each other in the halls he takes the time to recognizer her and check in with her. Those little moments have meant a lot to Wothe.
Harley Kropuenske presented her letter to counselor Megan Galligan, who has been a "big part of her high school experience."
From day brightening words of kindness in the halls to listening when she needed an ear, Kropuenske said Galligan inspired her in many ways.
Anna Drewes gave her letter to science teacher Tavia Bachmann. In addition to having classes with the science teacher, she also grew to know the mentor in sports. Bachmann has coached softball and volleyball.
"She is always positive and being that way has a positive impact on others," Drewes said. "If you're feeling down, she will lift you up. That's pretty great."
MaKayla Ullrich gave her letter to Jolene Tappe. She said the impact the elementary teacher made on her during her early learning years has never been forgotten.
"I had a lot of anxiety and she brought me out of my comfort zone and talked to me," Ullrich said. "By the time I got to seventh grade and came to a new school, I saw how much she had helped me. I will always remember her and how she impacted me."
Paige Engel provided her letter to Vo. Ag teacher Trescha Mitchell. Engel was not present the day of the interview.
When presented with the letters, the students said they all noticed the smile it created on their mentor's faces. Each one shared how much they appreciated the coach's assignment, as it afforded them the opportunity to brighten the day of an educator that has done that for them ten-fold.
The letters were gifted to the teachers during the school day.