Rural Vergas woman becomes a wine guide
News | Published on October 11, 2021 at 7:09pm EDT | Author: Chad Koenen
0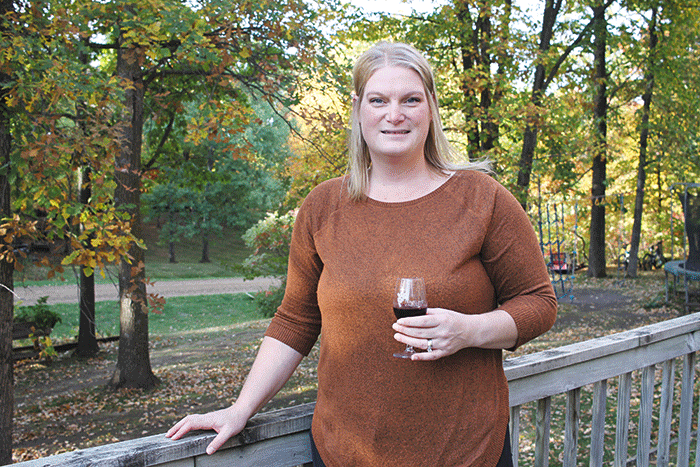 Unique wines served at events
By Barbie Porter
Editor
Most have heard of wine pairing events at restaurants, which are wildly popular in the lakes area. For those who prefer a party in the comfort of one's own home, Erin Gjerde is the go-to gal for a wine tasting event.
The rural Vergas resident is a wine guide with Traveling Vineyard. She brings the wine and teaches event goers about them, along with interesting tidbits. For example, Gjerde explained that all wines from Traveling Vineyard are solely made from grapes, and not likely to be found in stores.
"Those tasting a wine may taste a nectarine or pineapple flavor, but the flavor is actually from a grape," she said. "The grape flavor comes from the climate where it was raised and harvested and how the grapes were fermented."
The party host is also given the option of offering food pairings, with plenty of recipe suggestions by Traveling Vineyard. Gjerde said the recipes can be as simple as a cheese and chocolate platter to more complex food dishes; it's completely up to the host.
Each event offers tastings for two red wines, two white wines and a sweet wine.
"It is invitation only and you do need to be 21 or older to taste the wines," Gjerde said. "I typically bring 18 glasses, but most hosts keep the event smaller and invite between eight and 10 guests."
She added once hosts hold a party, several are up for making it an annual event. When that happens ,Gjerde said hosts are invited to change up the types of wines that are brought to an event. For example, if one doesn't care for white wine, they could ask for an additional red instead.
Gjerde learned about Traveling Vineyard at an event party in 2018. The 2000 Perham High School graduate said she caught the tail end of a fun event and it left an impression. The lingering thought about the event became a potential career to help pay for holidays and family trips. The more she thought about it, the more she decided she would be a perfect fit as a wine guide.
"I'm a social butterfly and have dabbled in direct sales," she said, noting both are necessary to provide a fun event atmosphere where those attending the event have an opportunity to leave with bottles of the exclusive wine.
Gjerde connected with the guide of the event she went to, and inquired about her job. Luckily, the friendly host was helpful and shared the career opportunities of Traveling Vineyard.
Gjerde didn't just become a host with the company simply by wanting it and having a natural charisma;there was a lot of training involved, too. 
The daughter of Albert and Mary Holzer said the work she put into becoming a wine guide has been worth it.
"When you see friends connect, give hugs and enjoy the evening, I leave feeling my cup is filled with someone else's friendship," she said.
For those apprehensive of get-togethers in person, there is also an option for a Zoom event. Gjerde said she can help with more details about enjoying a Traveling Vineyard event, online or in person. Contact her at (218) 371-1799 or online at wineguide.rocks/erinG.