Community Club reveals new event in the works
News | Published on October 13, 2021 at 12:44pm EDT | Author: Chad Koenen
0
Business owners call for group to reform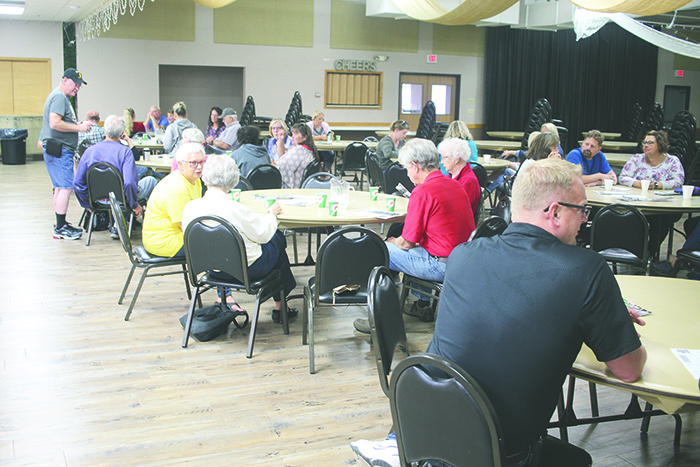 By Barbie Porter
Editor
Getting involved with community events doesn't have to be a 40-hour affair.
During the Frazee Area Community Club annual event on Thursday, Oct. 7, it was emphasized that many hands make light work. And, hands that can donate an hour are appreciated, even if they are not official club members.
Frazee Mayor Ken Miosek encouraged everyone to give volunteering a try.
Frazee Area Community Club President Brikker Ware said the group is also looking for ways to grow its membership with people who have a common goal of making the community stronger.
He broke the news that a new event is being considered. It is tentatively called Nordic Fest and would be a mid-winter event that may include snowshoeing, cross country skiing and other winter activities.
"To put on events like this we need more people to help, even if it is an hour to cover an event," he said.
Frazee resident Hank Ludtke asked, "Do we have to wear plaid?"
"That is still in negotiations," Ware replied.
Anyone interested in finding out more about volunteer opportunities with the community club, the next monthly meeting is set for Thursday, Oct. 21 at 7 p.m. in the Frazee Event Center.
Business leader
meeting sought
Before the pandemic struck the region, those in the business district hosted a meeting. Business leaders spoke about goals, concerns and so forth. It was recommended by a few business owners that the group reform.
It was also suggested the city council get more involved with the business district.
Wannigan Regional
Park update given
Members of the Wannigan Regional Park committee also spoke about the ongoing project. Polly Anderson explained the Frazee Community Development Corporation has a new board in place and the focus is to improve the quality of life for residence and workers as well as to help raise funds and put an organizational plan in place for the park.
Frazee resident Hank Ludtke, who has been a leader in bringing the Heartland Trail and North Country Trail to town, said the park committee has partnered with groups on the national level, as well as state, county and local.
Frazee High School Principal Anna Potvin added the proximity of the proposed regional park would be a benefit to the school district. She said many classes could use the space to enhance lessons, and transportation would not be needed as it is to go to the school forest.
United Community Bank Branch Manager Ashley Renollet said she believes the regional park will be a boon to business and residential growth in the city, as more opportunities to hike, bike, fish and canoe are draws for those who enjoy outdoor activities.
CornerStone gives update
CornerStone committee member Karen Pifher shared updates on the progress of the youth rec center and farm-to-table bistro and coffee bar. The venue opening of the former United Methodist Church near the high school has seen delays. Renovation projects have taken longer than expected as professionals, such as electricians and plumbers, are booked, she said. 
Fundraising is ongoing and grant funds are still being obtained. Pifher said they are "three-fourths the way to our goal." In time, a local fundraising effort will also begin.
Frazee City Administrator Jordin Roberts thanked all who attended, which included more than 30 people.