Four people retire from Vergas-CDH
News | Published on October 13, 2021 at 12:54pm EDT | Author: Chad Koenen
0
Fire dept. has long history of being able to fill vacancies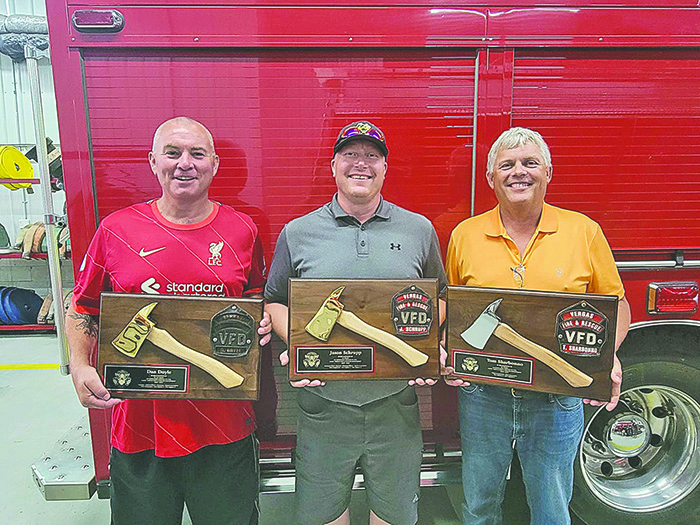 By Barbie Porter
Editor
The Frazee Fire Department recently recognized four of its members, who retired after many years of service. Dan Doyle, served for 231/2 years, Jason Schrupp, 20 years, Tom Sharbonno, 23 years and Anthony Soland served 17 years.
Schrupp can't recall why he joined the fire department. It may have been because his cousin was on it, or maybe it was his friends who served, but it may have also been a desire from within to serve his community.
As many departments struggle to find members, the Vergas-Candor-Dora-Hobart Fire Department has traditionally held a strong membership.
"I think that it's because Vergas is so tight knit. There are a great group of guys and gals on fire and rescue; and it seems everyone is willing to step up and help their community. I think that is why people do it; not for the retirement afterwards because that is peanuts."

Jason Schrupp
When joining the department, Schrupp said he realized firefighters are gifted with another family and ample opportunity to enjoy social events, such as the annual Christmas party, fishing tournament, firemen's stag, summer picnics and much more.
Doyle recalls exactly why he joined. Years ago, in a short time span he had driven by two vehicle accidents. As a civilian, there was a feeling of helplessness as far as assisting those in the accident. So, when he stepped into the Main Street hardware store and owner Paul Pinke asked if he'd consider joining the fire department, the answer was a quick yes.
All firefighters have memories of battling fires that seem more prevalent than others. For Schrupp, he said the potato barn fire of 2014 was one of the largest fires he recalled battling, and in the least desired conditions.
"It was mid-winter and 20 below that night," he said.
Doyle divulged the most memorable calls for him are not fit for print. They were the moments lives were lost. He added the department has taken proactive measures to immediately assist first responders to deal with an experience where they walked into a traumatic situation. 
In addition to being more mindful of the fire responder's mental health in recent years, much else has changed since the men joined the department.
Training is much more extensive and time consuming, but the lessons taught are valuable.
"Even the veterans need a refresh," Doyle said. "Or, you get in bad habits or forget, and having those training sessions makes sure everyone is safe, proficient and professional when the call comes in."
Schrupp noted the gear and mentality of keeping equipment clean has drastically changed. He credited knowledge about carcinogens to changing the old school mentality that the one with the dirtiest firefighter suits were the hardest working.
"Years ago that was an honor in a way," he said. "It showed you worked hard. But now, we know better."
Both Doyle and Schrupp retired just as the COVID-19 pandemic struck. Their retirment party was put on hold, as both agreed to step up if they were needed. Doyle explained if firefighters were in quarantine the department wanted a back-up list to ensure the city and the townships it covers still had a fully operational fire department.
"I was glad to be on the list and would've answered the call," he said.
With much love for the department and protecting the community they love, both were asked why they decided to retire. Schrupp explained his kids were getting older and involved with school activities. He knew he couldn't be committed 100 percent to the department, as family events took precedent.
"I knew it was time," he said. "It was difficult to tell them; I hated to do it because they are like a second family."
Doyle said he was also lacking that 100 percent mentality and felt he was slowing down.
"You need physical ability and I felt it was time," he said. "I miss it—being on calls. It was a really exciting thing to do even if it meant I got home at 2 a.m. and knew I wasn't going to get back to sleep. If I were younger, I'd do it all over again in a heartbeat; even those tough calls."