Easier access available to Forum website
News | Published on October 25, 2021 at 5:57pm EDT | Author: Chad Koenen
0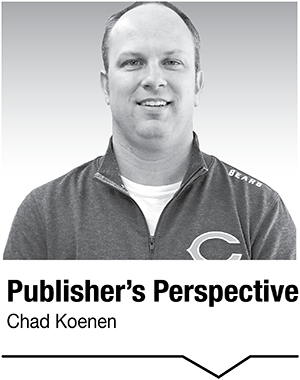 Earlier this year we unveiled a new website for the Citizen's Advocate, New York Mills Dispatch and Frazee-Vergas Forum.
While we have heard a number of positive comments about the overall design, readability and functionality of the new websites, we have also heard a few concerns in regards to our e-editions. In the past, an email was sent each week when a new e-edition was posted to our website. This was done through a third party vendor that hosted our old e-edition website.
While an email is not sent each week to notify you of a new e-edition, we want to let you know that our e-edition is posted each Tuesday morning, usually by 9 a.m. for the week. Our website stories are being updated throughout the week as well.
Even though you need to go to our websites at www.henningadvocate.com, www.nymdispatch.com or the www.frazeeforum.com to view the latest issue, we also learned of another way to quickly get to our websites from your phone or iPad.
All you need to do on an Android phone is go to our e-edition web page and click on the 3 buttons near the web browser bar. You can then click on a button that says Add to home screen. You'll be able to add a name to the shortcut, which will allow you to simply click on that button from your phone whenever you want to visit our website.
The same can be done on an iPhone or iPad by clicking on the share button on the bottom of your phone and click on Add to home page.
We hope this small trick will make accessing our websites a bit easier for you, while also allowing you to make the most of the new features we have on our websites.
I would also like to remind you that each week we update the photo galleries on our websites. The photo galleries feature most of the pictures we take each week, many of which are not included in the newspaper due to space considerations. The pictures can be purchased on our website and delivered right to your front door.
If you ever have a problem with your e-edition or the new websites please don't hesitate to give us a call at any time.
Deer hunting
Now I am not a hunter, nor do I pretend to be one either, but every year about this time it seems like one cannot talk to another person for more-than a few minutes without the subject of deer hunting coming up. 
It is a great weekend for this area, if for no other reason than it helps eliminate some of the deer that keep trying to run into my car while I drive 55 mph down the road.
The opening weekend of deer hunting brings me back to two years ago around this time when a deer literally ran into the back of my car.
One morning when I was driving to work around 6 a.m. last year I had to slow down for a group of deer just outside of town.
I was maybe going 15 mph at the time, and a deer literally ran into the back of my car. It scared the poop out of me as my coffee spilled all over my leg and before I could open my door to apologize for getting in its way, the idiot deer was already into the field. Fortunately there was no damage to my car because I'm not sure how realistic it would have been to explain to my wife that the damage to the back of my car was caused by a deer running into the back of my car at a near standstill.
I hope that deer ended up as a new decoration at the home of a local resident, because if it was stupid enough to run into my nearly parked car once, there was a good chance he will try to show off his athletic prowess again in a few weeks in another epic fail.
That being said, we want to continue a tradition of featuring deer hunting pictures in our newspaper. All you have to do is drop off a copy of your picture at the newspaper office, email it to news1@loretel.net or share it with us on our Facebook page. We will run all of the pictures we receive in an upcoming issue of the Frazee-Vergas Forum.
The picture can be of a doe or buck, big or small. All we need to know is who got the deer and who is in the picture. We always enjoy hearing the stories of how the deer were harvested, and each year we receive a number of comments from readers about how much they enjoy seeing the pictures of area hunters.