Foster child becomes a foster parent
News | Published on October 25, 2021 at 6:38pm EDT | Author: Chad Koenen
0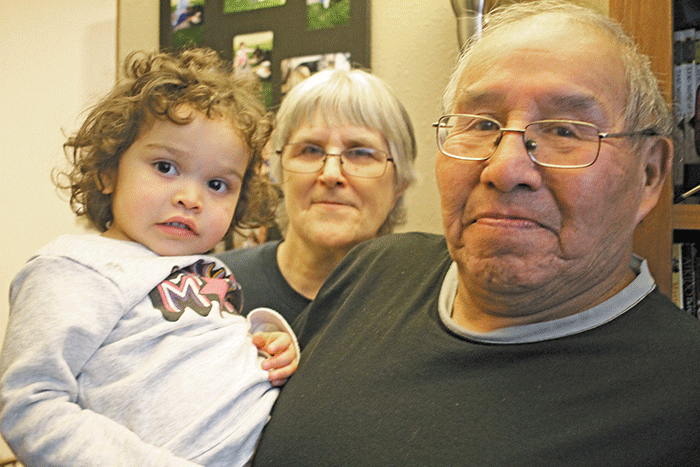 After fostering toddler, Finedays adopt a child
By Barbie Porter
Editor
When Pat Fineday learned his great niece was heading to a foster home, he had a "deep conversation" with Linda, his wife of 42 years.
The Detroit Lakes resident grew up with biological parents "who didn't care." Eventually, that led to him and his siblings being sent to different foster homes. While the 1975 Frazee High School graduate was blessed with the same caregivers throughout his childhood years, he watched many other foster children live on unstable ground.
"There were many that came and went," he recalled. "I don't know why they decided to keep me around, but they did. They were kind, but firm and taught me all about farming. I was in their life until they passed away."
Having that consistent adult leadership in his life improved Pat's future, as stability and self-discipline were keys to success for the fourth degree black belt that teaches TaeKwonDo in Detroit Lakes.
The 65-year-old considered the likelihood of the toddler finding the guidance he was blessed with in the rotating door of the foster system. Then the Finedays discussed their golden years, which would be altered by taking on raising a young child. The Finedays have raised five children, all of which are adults and out of the house. Honest talks were had, but in the end the choice became clear. 
"It was the right thing to do," Pat said. "Knowing that, made the decision easy."
The process that led to adoption began with fostering little Evie. The Finedays were approached, as family members were sought as potential foster parents. After the Finedays agreed, they said the process was simple. Paperwork was filled out and submitted, home visits were had and a foster care license was issued.
"The toughest part about that was that it took time," he said. "After we became her foster parents it took more time before the adoption could take place."
"A little more than a year," his wife added.
Since Evie joined the Fineday family as a foster child, there have been bumps in the road. When she arrived she was quiet, but not reserved. Pat recalled their first trip together to a store brought about a temper tantrum when a toy remained on the shelf. The Finedays smiled as if being a seasoned parent made that obstacle an easy hurdle. 
"I took her to the car and she had the rest of her tantrum there," Pat said.
Weeks later another shopping day arrived. Instead of one parent staying at home with Evie, the Finedays looked forward to teaching their little girl an important life lesson. Pat recalled when they got to the store he told Evie they can go shopping as a family. However, if she had a tantrum they would repeat history. And like most toddlers, the ultimatum was seen as a test.
"She threw a fit and we waited in the car until my wife finished shopping," he said. "She hasn't had another fit like that since."
While there are some tried and true antics most parents can expect from children, the Finedays said parenting is always a learning process. Each child is unique and has special gifts, but learning to respect one's elders and knowing those that love them want what is best, even when the answer is no, is an important life lesson to learn.
With consistency has come gains for little Evie. Pat and Linda attributed some of that success to the many resources available, as well as pre-school. It is likely the little girl is benefiting from the watchful eye and consistent expectations of her new parents as well.
As the family has grown stronger with time, they made it official in late September and adopted little Evie.
"The adoption process wasn't scary or complicated at all," Linda said.
In fact, the experience went so well the Finedays have begun thinking about a potential adoption of another child, so that Evie can have a sibling her age.