Twice Blessed blesses CornerStone and more
News | Published on October 25, 2021 at 6:12pm EDT | Author: Chad Koenen
0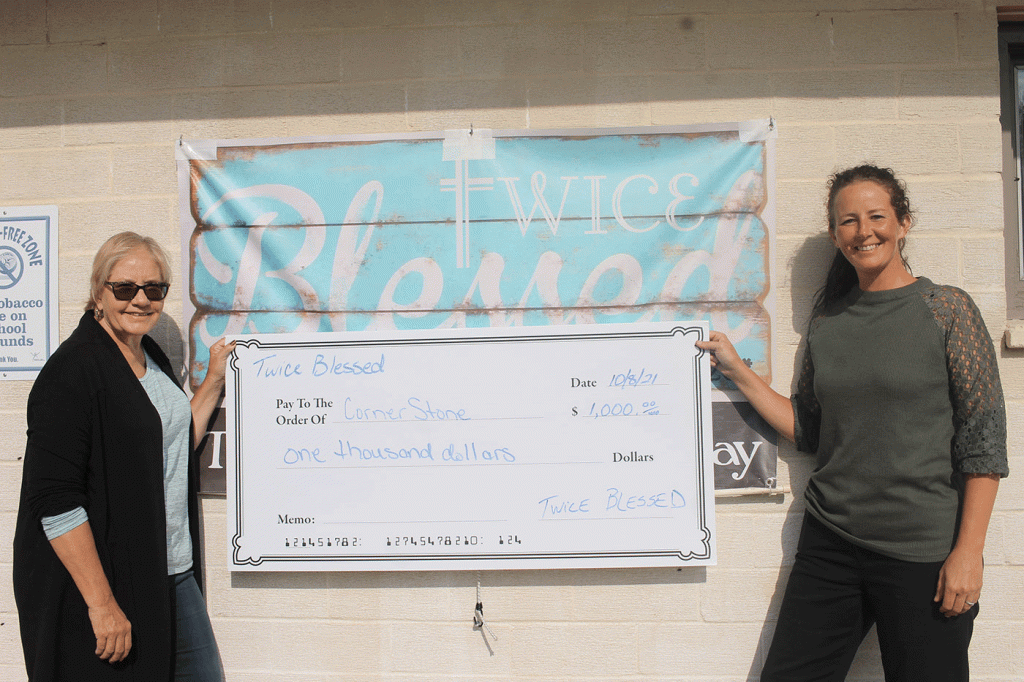 By Barbie Porter
Editor
Twice Blessed continues to hand out blessings. The thrift store in Frazee offers a variety of lightly used products, then takes the proceeds and gives it back to the community. Recently, the store provided a check for $1,000 to CornerStone.
CornerStone is a group leading the vision for providing the community with a youth center, farm-to-table bistro and more.
The thrift store opened about seven years ago, but came under the Harvest Church ownership a few years ago. The mission of the thrift store has always stayed on course­—to provide the community with an all encompassing shopping outlet and to use the proceeds for good deeds in the community. Those who shop at the store will find it organized and spacious.
"We have toys, books and clothing for kids, women and men, with a nice changing room, and much more," said Twice Blessed volunteer Dawn Flemmer.
Flemmer began volunteering with the thrift store before it became Twice Blessed. Shortly after moving to the community, she wanted to get involved and volunteer. The opportunity to help at the thrift store appealed to her as it was a great way to meet people.
"Oh, I love this place," she said. "The prices are cheap for quality items and the people are great."
Flemmer said the Twice Blessed board meets to determine who will receive financial donations. After a list is compiled and a vote taken, the funds are handed out. She noted Harvest Church, which runs the thrift store, is a big supporter of CornerStone. Still, CornerStone board member Karen Pifher was surprised at the generous donation.
"It is wonderful," Pifher said, looking at Flemmer. "Thank you so much."
Pifher gave an update on the progress of the youth center, which is located on the corner of Birch Avenue and Second Street NW in Frazee. She said grants are being sought and there is a plan for public outreach and donation campaign.
As for building renovations, Pifher said there has been progress. The heating, ventilation and air conditioning components are being tackled by Hanson's Plumbing, Lakes Country Heating and Air Conditioning and Frazee Electric.
Meanwhile, donations have started to come in for the youth center. Pifher asked, if possible to hold off on item donations. She explained they hope to keep the space as empty as possible during renovations, and they do not have storage space.
Twice Blessed also donated to release time programs, providing backpacks to area youth and a lunch program. Gift cards were presented to teachers as well, as a simple gesture of appreciation.
The store has specials on different tag color items every month. Stop by the store to see what is on special. The store hours are Thursday and Friday from 10 a.m. to 5 p.m. and Saturdays from 10 a.m. to 2 p.m.