Froeber joins Frazee City Hall staff
News | Published on November 3, 2021 at 4:01pm EDT | Author: Chad Koenen
0
From metro to small town living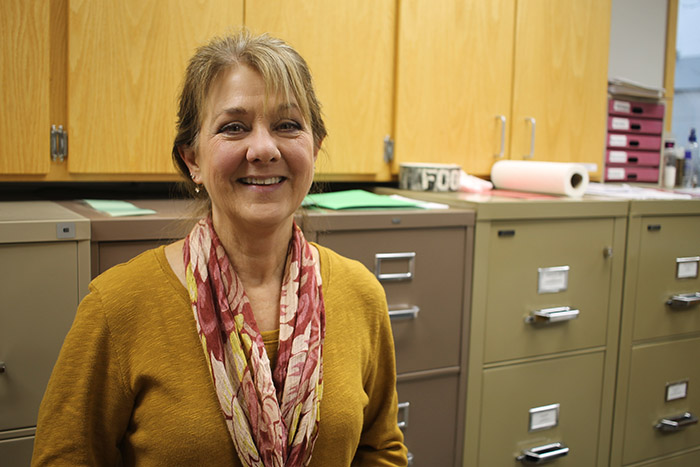 By Barbie Porter
Editor
Andrea Froeber is the newest friendly face at Frazee City Hall. The Town Lake resident joined the team as an assistant to the deputy clerk and will tackle time consuming duties, such as answering phones, assisting with utility billing, pet licenses and more.
Froeber moved to Frazee with her husband Jim after living several years in Bloomington, Minn. She cited family in the Fargo-Moorhead area and in Frazee as reasons for moving to lakes country.
"I didn't want to stay in the city, but Jim didn't want to leave," she divulged, noting eventually lake life won out.
After finding land and building a house in Frazee, Froeber had the chance to explore town.
"Frazee is very pretty," she said. "The neighbors are great and the lifestyle has a relaxing peaceful feeling about it."
She added the trails and potential regional park were exciting additions to learn about upon becoming a resident.
"And I love the skating rink," she said, noting if her 7-year-old granddaughter visits, the rink would be a fun activity for the family. 
While paying her utility bill, she learned the city was hiring. She had worked for city entities, including a public works office before, and decided to apply.
"I'm a social person," she said. "I thought this would be a great way to meet people and become a part of the community."
Froeber began working for the city at the end of September.
In her down time, the mother of two adult children and two grandchildren enjoys quiet moments with the sounds of birds chirping, loons calling and leaves rustling while working on one of her many projects. She began cross stitching in college and eventually shifted to making quilts.
"I saw a quilt and just loved it," she recalled. "I decided then to make one myself."
Instead of learning the hard way by trial and error, Froeber took the educated route and enrolled in a class. She learned the basics of building a quilt form a template and gained skills to go off pattern as she made more and more quilts. She also enjoys rug hooking, which has become a favorite past time. She explained burlap is used to create a loop pattern for rug hooking, which creates beautiful rugs that can be unraveled if a child tugs at a loop long enough.
"I always said I'd never make a big rug, but then I did," she said. "I prefer table runners."
The Froebers are also known for rescuing pets. For many years they have given a home to a dog that landed in a shelter. They often brought home senior dogs to provide true golden years for the four-legged companions. They currently have a golden retriever.