Snyder becomes principal at Frazee Elementary
News | Published on November 3, 2021 at 4:35pm EDT | Author: Chad Koenen
0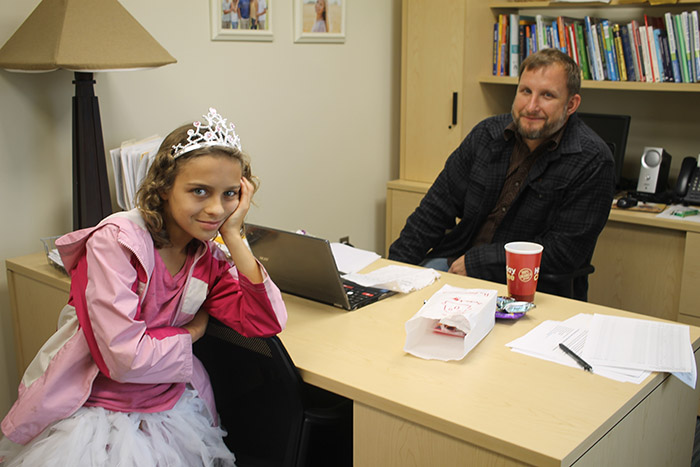 By Barbie Porter
Editor
Grace Snyder was likely the youngest principal in the U.S. on Friday, Oct. 29.
The Frazee Elementary student earned an honorary principal title after collecting the most donations for a school-wide fundraising effort to provide field trips and other large-scale activities. 
In the past, the district hosted fundraisers that offered items for sale. Portions of the proceeds went to the school, but feedback from donors suggested the district just ask for donations. That change resulted in the school collecting a record amount that totaled about $30,000.
Snyder, who is in fourth grade, was the top fundraiser of the entire school. A majority of the $1,404 she collected was from going door-to-door in Frazee, Vergas and Detroit Lakes.
"I visited 52 houses," she said. "All but one donated. I think the one that didn't (donate) was because it was getting late and they were tired."
Synder also dug into her own savings and withdrew $100 to add to the effort. Her donation was made possible through tackling many chores, including cleaning "many" dishes and tending to the family chickens in the summer.
For her efforts she was gifted with the privilege of being Frazee Elementary's principal for a day. She started her new job in class with the help of Anderson Bus and Coach. The Frazee-based business sent a limo-bus to the elementary to celebrate Snyder's achievement. She invited several friends to kick the day off with a party in the limo-bus and a rockin' ride around Frazee and Vergas. In addition to enjoying the comfort and style of the luxurious limo-bus, Snyder said she really enjoyed eating popcorn and sipping on fruit drinks while wearing party hats and twirling noisemakers.
Travis Nagel, who essentially had the day off, decided to come in anyway and show Snyder the ropes to his job. He welcomed her when she arrived at school in the limo-bus and shared her first order of business would be reading the morning announcements. Then she spent time visiting classrooms and decided the most challenging part of Nagel's job is "dealing with people all day." She planned to squeeze in a "kid's meeting" at some point during the day to discuss "kid's stuff."
Nagel said he was very impressed with Snyder's determination and follow through to become principal for a day. He recalled when the fundraiser was announced that Snyder declared she would be the top earner. When Snyder learned she achieved her goal, it "almost" made her cry.
The rest of the school was gifted with a Fall Fun Day, as the district far surpassed its targeted amount of funds to be raised. The day included bingo in the morning, a costume parade, obstacle course, and visits from zoo animals.