VPC discusses progress for downtown projects
News | Published on November 3, 2021 at 4:18pm EDT | Author: Chad Koenen
0
Parking woes discussed in Vergas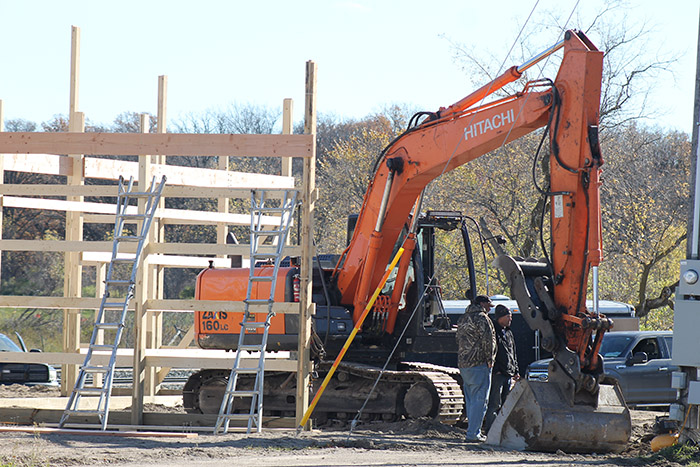 By Barbie Porter
Editor
Construction began on the Summers Construction and Real Estate office in Vergas. The building is located across the street from Hanson's Plumbing and Heating, which is located right off of Main Street.
During the Vergas Planning Commission meeting on Monday, Oct. 25, progress on the other downtown development was reviewed. Across the street from Vergas State Bank, a building that will have a grocery store, workout facility, open commercial spaces and apartments is set to be built.
Commission member Bruce Albright explained the entrance door for the grocery store would open onto city property. An easement was called for and the builders agreed to apply for it.
To address parking concerns, Vergas City Clerk Julie Lammers said diagonal parking where Franklin Fence currently stores shingles is being considered. 
After the discussion at the council meeting, Lammers found the city has a resolution to not allow diagonal parking. So, if that concept progressed the city council would need to approve an exception. She also spoke with the county, as the road being considered for diagonal parking is a county highway. She stated the her conversation indicated the county would be OK with the diagonal parking at the proposed location as long as it was only on one side of the street.
As for parking downtown, the issue has become a hot topic for residents and visitors. The commission discussed options, such as purchasing land for potential downtown parking lots. The land was both downtown and a short walk from downtown.
Other discussions were to create signs and point people to potential overflow parking points, such as the event center. Church parking lots could also be an option, providing the church gave permission.
The council also authorized easements to be drafted for the portion of Townline Road in city limits. The city engineer would also figure value for the easements.
Lammers was also asked to contact the landowners to determine easement interest.
Discussion also was had about a property that had received a formal complaint. While the commission had requested the trailer on a property to be brought up to code or removed by September 30, nothing had been done as of the end of October. The structure was now visible with leaves no longer on trees.
Lammers said the next step would be for the attorney to send a letter, followed by the city taking care of the violation and putting the cost on the owner's property taxes.
It was noted it was not believed that the mobile home had water or sewer, and in that regard was also not liveable. Lammers reported the tax information on the property also did not list a structure.
The commission also discussed a potential business operating out of a residence. It was noted there was concern stated when a shop was built, but the individual assured the commission it was for personal use only. Now, reports of company vehicles and pallets of supplies being delivered to the shop are being reported.