Breuns break the mold for city dweller's family size
News | Published on November 10, 2021 at 11:44am EST | Author: Chad Koenen
0
Big family was a childhood dream of mom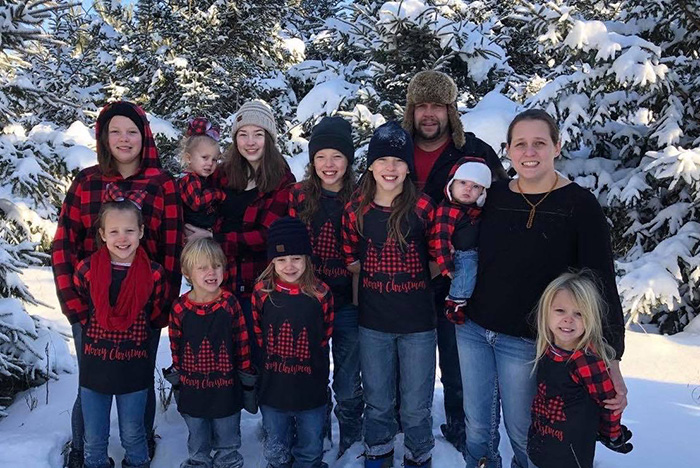 By Barbie Porter
Editor
Large families may be common for dairy farmers, but city dwelling families tend to be shrinking. Frazee, however, has been blessed with a unique family. Alli and Bruce Breun have 11 children.
"Sometimes I feel like there is judgement," she said. "I've heard some negative comments when I was pregnant. I didn't tell a lot of people when I was pregnant with Thorin (her youngest)."
With admirable strength, Alli turns the other cheek and focuses on her family. Because, on those tough days brought on by outside opinions or a house that doesn't allow a moment of peace, she can sit in the midst of chaos, look at her children and feel her heart grow with joy.
The children each provide their parents with a blessing. Nevaeh, 15, is a quiet leader who shows her strengths through action.
Bryley, 14, specializes in entertaining the littlest Breuns in the house and some think she has comedic chops.
The dudes (preferred over twins) Ryder and Cannon, 13, may look identical, but their personalities are unique. Ryder is more impulsive and adventurous while Cannon has a refined bravery.
"They do have an inseparable bond," Alli said, adding they sometimes make plans no one else is privy to. Such was the case when they went to fourth grade wearing the same clothes. They decided to live a day in the other's shoes.
"I'm not sure if Mrs. Ziegler knows, to this day, that they did that," Alli said. "Sometimes they play it on me, too."
Emmelia, also known as Mia is 10 and the busybody of the household. The gymnastics fanatic is focused, follows the rules, enjoys giving hugs and her siblings sometimes call her Mini Ma.
Finn, 8, has a sensory processing disorder. He gets stressed when there is a lot of noise. Alli said the school quickly identified the challenge when he was younger. While he has an obstacle many children do not, his mom said he is a hard worker and in a busy household learned to adapt by taking walks to decompress.
Toby, 7, is the loving, charismatic charmer that seemingly draws people to him with a glint in his eye and a smile on his face.
Breccan, 6, is an athletic goofball. Alli shared he began taking ninja classes and immediately excelled at the climbing and jumping required.
"If there is a competition, he wants to be in it," she said. "He loves sports."
Creedyn, 4, is sassy in a charming way and confident for a preschooler. Alli said she believes her "little sunshine's" strong self-esteem is in-part because her older siblings build her up to ensure she knows her worth.
Ronan, 2, is the tornado of the house with a wild streak that keeps everyone on their toes and 7-month-old Thorin is a smiling babe who appears to enjoy watching his siblings antics.
Idea for a Breun Bunch began decades ago
Bruce was OK with a small family. Alli grew up with one brother and as a child declared that she wanted to have at least 10 children. Every time she went babysitting, the idea was reinforced. Dreaming of a full house created images of many memories being made, plenty of love to go around and the opportunity for her kids to have best friends their age throughout their lives.
While those goals were actualized, it has not come easy. Her children, however, have made the large family manageable. Alli explained there is a chain of command and a strategy to ensure all are taken care of and she and her husband keep their sanity. For example, when a little one get rambunctious, the remedy is the great outdoors where the older kids are gifted with the responsibility of being a supervising eye.
Alli said she is blessed that her older children are really good with the younger siblings, and her oldest, Nevaeh, has become a hot commodity in the babysitting world because of her experience.
In addition to learning responsibility through caring for younger siblings, each child is provided a list of chores. With a full to-do list, having those helping hands makes the household run smoother.
"They have assigned duties, and when they are done they can go outside," she said. "Some do their chores, some complain; it depends on the kid and I imagine it is like that in every family."
Big families also teach children how to share, Alli said. When people realize the size of her family some assume she lives in a mansion, but the truth is everyone shares a room in the three-bedroom house that also has a loft area.
At times, close quarters can be a challenge and bickering rises. But, for the most part, it has strengthened family bonds.
"They take care of each other and step in when needed," she said.
Budgeting is also very important for the Breun household. Sticking to a list and buying in bulk are key, as is being able to say "no" when one of her kids wants a random toy. She noted her kids learn at an early age if they want something specific or expensive they need to save their own money, or wait for their birthday or holiday.
"For us, we are thankful for the meals the school provides and for the thrift stores," she said, adding when one needs to stretch their dollar that is a great place to start.
While big families are not everyone's dream, Alli said she has been blessed with the opportunity to live hers everyday.