Council closes two alleys until spring
News | Published on November 17, 2021 at 2:09pm EST | Author: Chad Koenen
0
Easement request granted to developers of new downtown Vergas building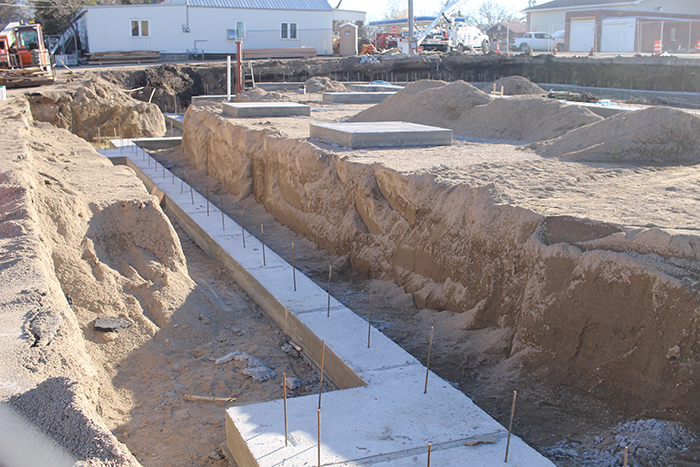 By Barbie Porter
Editor
Vergas will have a few less alley ways, at least until spring. 
During the monthly Vergas City Council meeting on Tuesday, Nov. 9 a request was made to close the two alleys abutting the new construction at 105 Main Street. Vergas Ford and the city liquor store and offices are on the other sides of the alleys from the new building that will house businesses on the main floor and apartments on the top floor.
Jeff Zitzow attended the meeting. He is a co-owner of the new business and residential project, along with his wife Wendy and partners Tyler Schmid and his wife Heather. Zitzow explained closing the alleys until spring will provide space to store construction material and equipment.
The footings have been installed, and the goal is to have the structure built before winter so the interior work can be done during the winter months.
Lammers said truck shipments for the liquor store can access the back of the business through the alley between Vergas Hardware and Hanson's Plumbing and Heating. The only issue she foresaw was the Bookmobile.
A mobile library visits the city and has traditionally utilized the alley between the former grocery store and city hall. Discussion was had to move the mobile library site alongside a gas station, or an other high visibility area, so those that utilize the service can easily locate it.
The council unanimously approved closing the two alleys that were requested until May 1, 2022.
The council also granted a requested easement from the developers to build up to their property line and place a sidewalk on city property.
The easement would extend 12 feet on the west side of their property and be used for a sidewalk and parking. Schmid and Zitzow would be responsible for the upkeep and maintenance of the easement area.
The council unanimously granted the easement request.
Zitzow noted there may also be more parking spots next to the building than was originally anticipated. He said a transformer by the building may be removed, and in doing so it would open up four more parking spots.
BHH was hired to develop the building plans, which call for 115 feet along First Avenue South and 74 feet along Main Street. The bottom portion of the building will have five storefronts and one handicapped accessible apartment. The top level will have apartments.
The need for a grocery store and to help their hometown thrive were the driving factors for the Schmids and Zitzows to tackle the million dollar project.
DuWayne Ditterich and his family will occupy about 2,800-square feet and provide groceries and more. A work out facility will also be offered in the new building.