Seim signs to play college ball at Bismarck State
Sports | Published on November 17, 2021 at 2:08pm EST | Author: Chad Koenen
0
By Barbie Porter
Editor
When Scott Seim was a boy, neighbors by his Town Lake home heard a consistent thumping of a ball thrown against a fence. Hours were spent in the yard just about every season. The dedication has paid off with a scholarship to play baseball for Bismarck State College.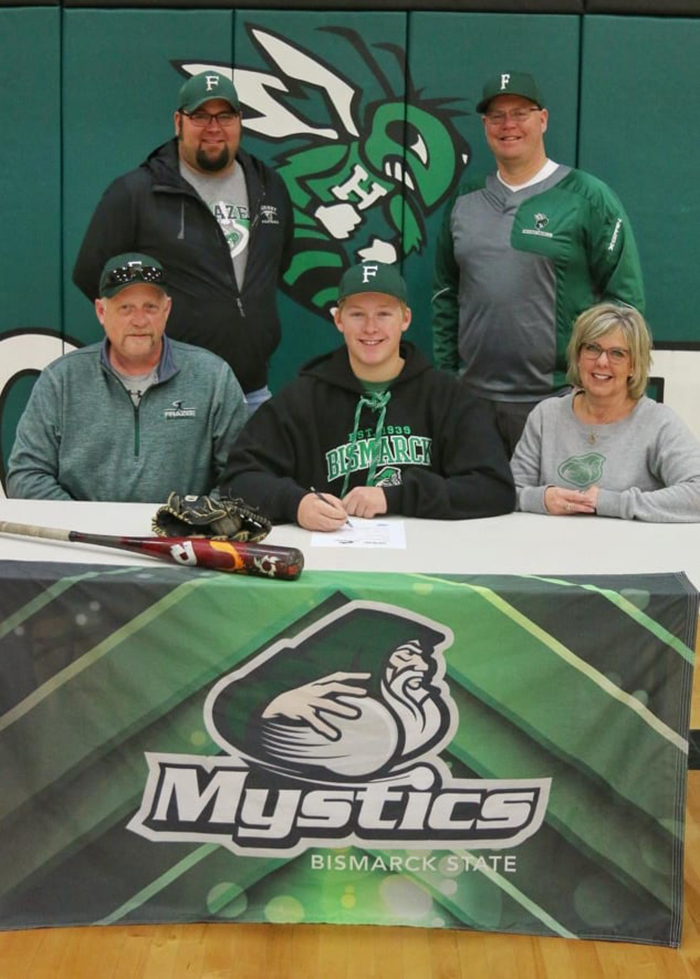 BSC's head coach Michael Keeran said Seim pinged his recruitment radar when the son of Stacy and Dede Seim showcased his skills in league play. Seim has been a member of a traveling regional team, Minn Dak, where elite players try out for the team and the chosen few travel for games with other skilled teams.
"He has ambition to play at the college level and to be really good," Keeran said. "We also liked that he had success playing for the Minn Dak prospect team and at the high school level."
Keeran added he recognized the talent Seim brings to the table, as well as his willingness and desire to grow as a player.
"I think he has a bright future," the coach said.
The love for the game of baseball began when Seim was 5-years-old and his parents signed him up for T-ball. He tried other sports as well, but by the time he was 9-years-old, he realized baseball owned a piece of his heart. He recalled standing on a mound and enjoying the thrill of striking out batter after batter.
"I walked some too, though," he said. "My pitching was pretty wild then. I didn't really get command of my pitches until sixth grade."
He wasn't the only one who saw the bond he developed with the sport.
"If he didn't have a baseball to throw, he'd throw snowballs in the winter, and something else the rest of the year; he was always throwing something," his father recalled.
Seim continued to develop his skills, seeking additional guidance from mentors who played at higher levels. Tips were filed, lessons were practiced and by the time he reached his freshman year at Frazee High School, he was thrown to the wolves.
"I was the only freshman on varsity that year," he said.
With a swim, not sink mentality, Seim went from treading water to surpassing his competition. He credited his growth to his parents, coaches and mentors.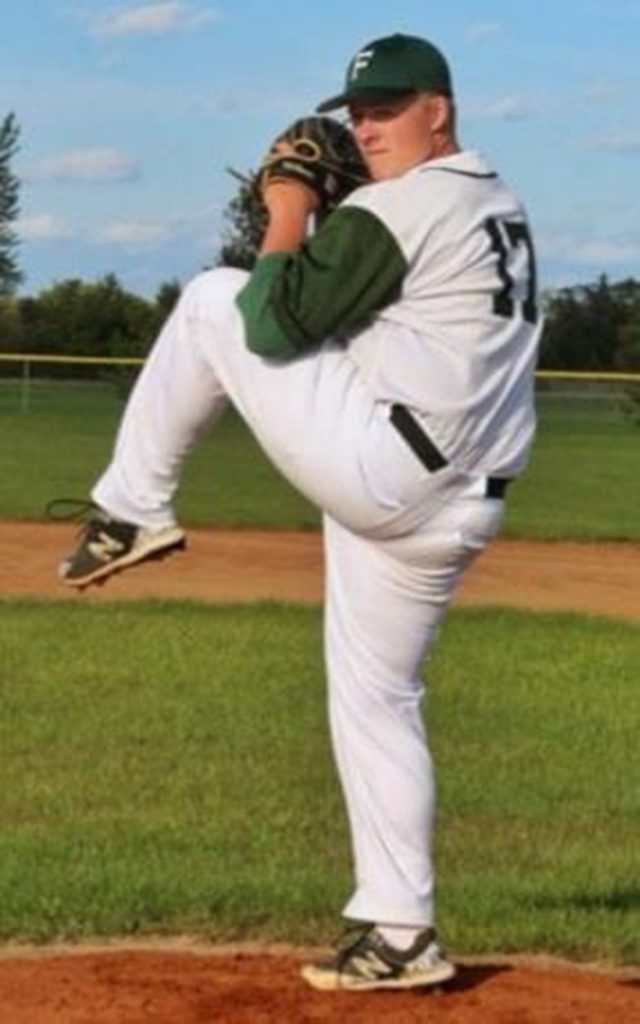 Andy Mekelson and Brandon Olson helped him develop from a junior varsity to varsity player with a multi-faceted skill-set that includes pitching, catching, first base and third base knowledge.
His first love is pitching, and he noted being a catcher has increased his aptitude of understanding the best ways to attack a batter through pitching sequences.
He continued seeking additional training and knows the road to Fargo, N.D.'s Ball Yard Training Center well. Luckily, his parents have helped along the way for such opportunities and provided him the support he needed to take his game to the next level.
"His fastball went from 76 mph to 83 mph in eight weeks," his father noted.
While Seim had a drive to improve and loved the sport, it wasn't until family friend Jake Bachmann forced his hand that he realized college ball was attainable. Seim was spending a leisurely day with his family when the phone rang. Bachmann, who plays for the Frazee-Vergas Loons, said he was stopping by to pick up Seim. And, Seim was going to pitch at the league game that afternoon. Seim was 15-years-old on that fateful day. Facing players who had taken the batter's box at the college level was intimidating at first. But, Seim found his focus and success followed.
"That was a turning point," he said, noting he realized he could compete at the next level. Since then, he has been focused on making his goal a reality.
As Seim turned 17 and prepared for his senior year, several colleges showed interest. Ultimately, Bismarck State College caught his eye because of the strong win record and competitive nature of the coach. He also appreciated how the coach was pro-active and recruiting players before most others. The team also has regional support for the D-II Juco school.
If he is able to go to the next level after college, Seim would be thrilled. Even if college ball is the end of the line, he is going to work hard, gain skills and thrive, as there is always a future in coaching, he said.