Theisen brings India Pale Ale IQ to Vergas liquor
News | Published on November 17, 2021 at 12:26pm EST | Author: Chad Koenen
0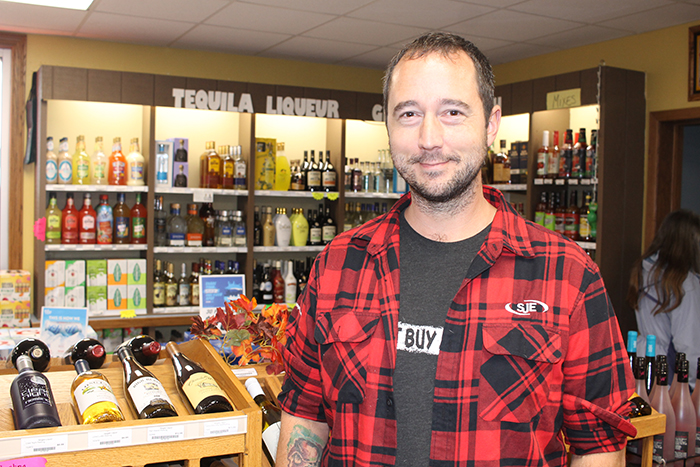 By Barbie Porter
Editor
Those stopping by the Vergas Municipal Liquor Store may notice a new smiling face behind the counter. Kyle Theisen recently took on the management duties of the city-owned business.
The Vergas resident wanted a job with a low commute time, and enjoyed the idea of working with the public in a retail setting.
While he has some interesting and fun promotional ideas for coming months, he said he first wants to learn the ins and outs of the already successful business.
After all, he has a lot to learn. In his first weeks he said he's met several vendors and was surprised at how many provide their beers, spirits and wines to the store, as well as the variety each offers. To navigate the abundant of offers and make sure the product is a good fit for the customers that shop at the Vergas Main Street store, Theisen said he is leaning on former liquor store manager Julie Lammers. She is also the city administrator and has an office next door to the store.
"Her mind is a vault of knowledge," he said.
Lammers isn't the only thing that has impressed Theisen since he started work in Vergas. He said the employees all are friendly, appreciative of the customers that come in and very knowledgeable and willing to lend a hand.
"The customers are also really friendly," he said. "I know many of the faces just from living here the past six years, but now I'm learning names and getting to know them better. I look forward to meeting our summer time regulars, too."
While one employee may be well-versed on wines, and another spirits, Theisen said he brings knowledge about IPAs (India Pale Ales). With an appreciation for draft beer, he has always been impressed with the selection offered in Vergas. Anyone with similar tastes or wanting to give an IPA a try, Theisen would be glad to provide a few recommendations.
Theisen grew up in Wadena, Minn. and graduated from high school there in 2004. With a long-standing love for bass fishing, he said getting into the heart of lake country was a goal early in life.
"Bass is the only fish I fish for," he said. "I enjoy how they blow up out of the water and provide the thrill of a surface fight."
The youngest child in a family of two, Theisen also enjoys deer hunting. However, this year he is thinking of waiting until muzzle loading season before he ventures out for the hunt.
While being out in nature is peaceful, Theisen is a man of adventure. The most adventurous thing he has done includes going to the Caribbean for a vacation and ripping up his return ticket.
"I ended up becoming a scuba instructor," he said, noting he was already scuba certified upon arrival and a company was looking for an intern. He took a test dive and was hired.
He helped divers of all experience and likely saved a few lives along the way. There was one diver Theisen noticed was trying to go to the surface too quickly, which can lead to death. He grabbed his leg and held him at a safe depth, assisting in a slow ascent to the water surface.
Locally, he said the most interesting find was in the water near the gravel pits in Brainerd, Minn.. He said about 60 feet down was a new pickup, which later was discovered to have been stolen from the Minneapolis area.
Other adventures for the 35-year-old include hikes, biking and snowshoe adventures with his two dogs.