Lakes area veterans honored at Lions event
News | Published on November 22, 2021 at 6:00pm EST | Author: Chad Koenen
0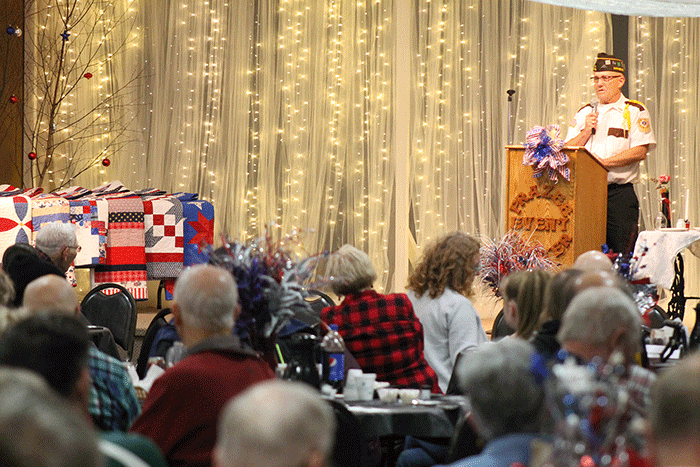 17 Quilts of Valor presented
By Barbie Porter
Editor
The area Lions Clubs teamed up to show appreciation to military veterans in the lakes area.
Lions from Frazee, Vergas and Wolf Lake have worked on the project to honor veterans and a guest with a steak dinner. Quilts of Valor also provided a presentation of 17 quilts.
Quilts of Valor members create a quilt to present to service members and veterans who were touched by war. At the Frazee event, 17 quilts were presented. This year Vergas Lion and veteran Rodger Palmer received an honorary quilt from Quilts of Valor.
Many may say the honor was fitting as it was Palmer who brought the event to the area. Frazee Lion Rita Stelzer recalled that Palmer had attended a similar event in another city. He thought it was a fantastic way to celebrate those who served and brought the idea to the Vergas Lions Club. Because the concept reached beyond Vergas, Lions Clubs in Frazee and Wolf Lake were told of the idea and quickly joined to make it a team effort.
This event has been held the past few years in Vergas, Wolf Lake and it returned to Frazee this year. The event that was held on Wednesday, Nov. 17 at Frazee Event Center and about 200 people attended.
More than 20 volunteers from the Lions clubs, Frazee FFA and area royalty teamed up to make sure the veterans enjoyed themselves and the evening was a success.
"It was a community effort to make this happen," Steltzer said.