Declaration of Independence restored through pro bono work
News | Published on December 2, 2021 at 1:43pm EST | Author: Chad Koenen
0
Rural DL resident helps Flemmer locate a treasure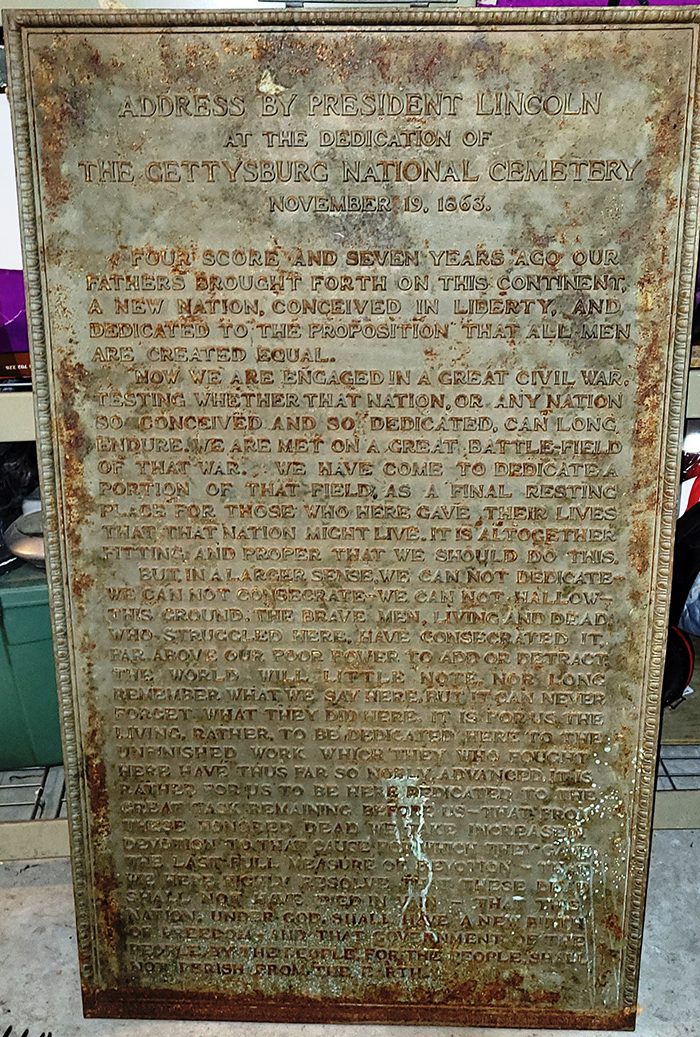 By Barbie Porter
Editor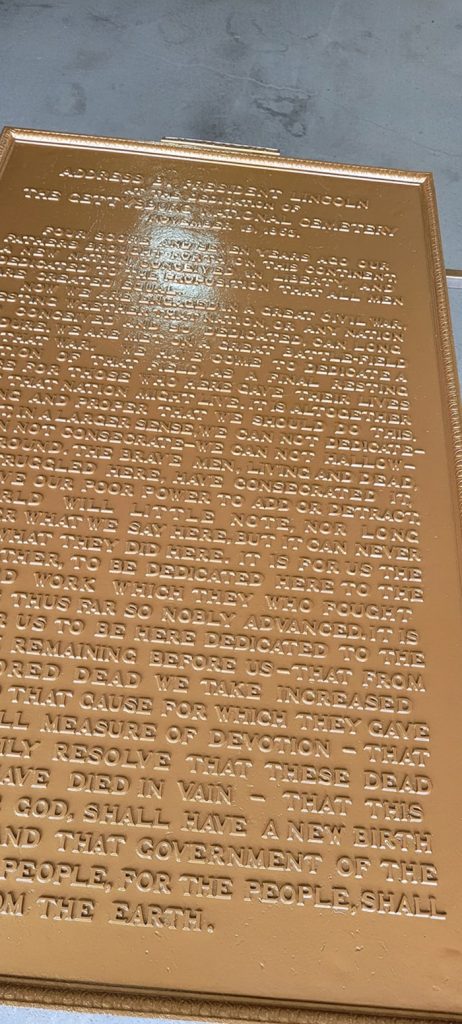 A team effort brought a piece of history to Frazee. It all started when Frazee City Councilman Mark Flemmer received a call from Darby Nundahl of rural Detroit Lakes.
Flemmer noted that Nundahl works for Arvig, and at their shop in Detroit Lakes was a 3-foot-by-5-foot metal tablet with the Declaration of Independence inscribed in embossed letters. After researching the piece, Flemmer said he believes it was one of 64 made in 1909, some of which made their way to national cemeteries. Over the years, 125 total were made.
"The piece was sitting, waiting to be disposed of," Flemmer said, noting oxidation and time took its toll on the piece. "But he suggested I take a look."
Flemmer and his wife Dawn jumped in the truck and headed to the business. Because it is a private company, Flemmer made sure to chat with people on the property along the way, including two guys in the garage where the Declaration of Independence was located. Flemmer met Thomas Olson, who stated he salvaged the piece from an old school that was being torn down several years ago in Detroit Lakes.
"He was going to restore it, but never did," Flemmer said. "I asked if it was OK to retrieve it and he gave it to me free. He said if it was restored that he would look forward to bringing his grandchildren to see it."
The Flemmers tilted the very heavy piece against the truck bed and used counter leverage to lift it. After freeing a few caught fingers, the Flemmers headed back to Frazee. They stopped at Frazee Auto Body and the owners recommended visiting Al Lunde of DL Sandblast to have the grime and oxidation removed. Flemmer called and was told to bring the item over.
"I thought he was going to look at it; I didn't expect him to do it right then," Flemmer said. "But, he did. It took about 40 minutes and it was fun to watch it come to life."
The work was done pro bono. Flemmer said when the sandblaster learned the project was to become a tourist attraction for the city of Frazee, he refused payment for the work. Another donation came from Frazee Auto Body. Flemmer said he let the owners pick the color to paint and seal the tablet.
"They did a two touch primer to ensure rust wouldn't come back," he said. "They picked the color of a Lincoln penny and did a fantastic job. They only charged for basic labor, about $100."
The finished piece has been picked up and is currently being stored at the city garage. A permanent place where it will be installed has yet to be determined. Discussion has been had of locating it at the proposed bath house at Town Lake and the downtown skating rink. Flemmer said he welcomes other recommendations as well.