Stenso retires as Frazee postmaster
News | Published on December 2, 2021 at 1:46pm EST | Author: Chad Koenen
0
New postmaster to be appointed after Christmas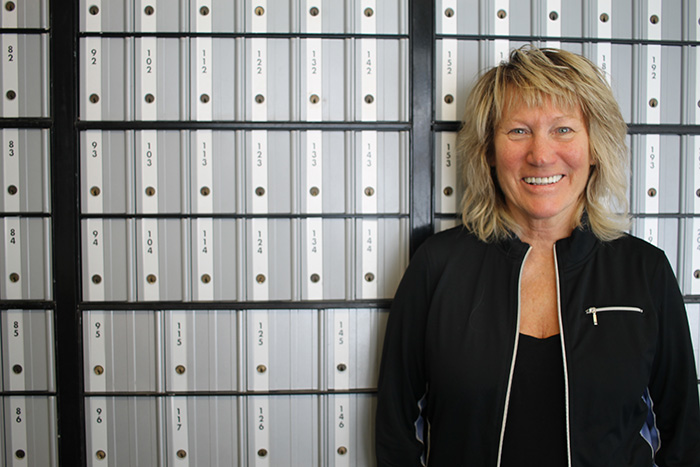 By Barbie Porter
Editor
Janeen Stenso found her calling when she learned how organizing and sorting items were sought after qualities in the post office career field. Such attributes were seemingly innate for the rural Hawley resident. When she took the postal exam with 100 other applicants vying for the job, she scored first and was quickly hired.
Stenso's career with the post office began in Casselton, N.D., which was familiar territory as she grew up in a small North Dakota town. After 15 years of service she created a strong reputation in the post office as a valued employee. She decided to move to Florida and try out other professions. A few years later she was asked to return to the post office and accepted a supervisor job in Perham.
Stenso said she got to know area postmasters, including the former one in Frazee, where her sister also lived just outside of town. Driving through Frazee and visiting with those who work at the Frazee Post Office made Stenso feel like Frazee was where she wanted to close her career. When the former postmaster retired, Stenso transferred.
"This group helps each other and when everyone helps one another you have the best work place," she said. "Everyone is a problem solver and wants to help whoever comes in the door."
In addition to joining a strong team, Stenso also addressed needs for the public. She recalled walking into the post office one day to see a few boxes were open.
"Back then the boxes had combination locks on them," she said, noting after tinkering with them she discovered 25 boxes would open with a jiggle of the lock. From past experience, Stenso knew who to contact to have the boxes upgraded. She also knew of a company that had extra boxes on-hand to make the upgrade economically feasible. Now, Frazee's post office boxes have a secured key entry lock.
There have been many other changes in the postal industry since Stenso started. She said the one that had the biggest impact, in her opinion, were the automated sorters. She recalled, before machine sorters began reading barcodes to place them in the proper forwarding pile, the work was all done by hand. At one point in her career, Stenso recalled having pile after pile of mail to be sorted in front of her. Her work station had another sorter across from her, and to add fun and efficiency the two would race to see who could get through a pile faster.
At the top of the post office career is the job of postmaster. She said that job has also seen drastic changes in the past several years. What was once a management position now has additional duties of human resources, payroll, editing routes, custodial duties and more. All the extra work came without additional pay, she noted.
Retirement had been in Stenso's thoughts the past few years. The 67-year-old said spending time with her two daughters and three grandchildren is now her focus.
"I look forward to going to my grandkids school events and being Grandma Cool J," she said. "I've done some TicTocs."
Travel may also be on her radar, as she thoroughly enjoys cross country road trips "because you never know what you're going to see."
Stenso also plans to chase her dream of being a published author. She's attended seminars to sharpen her skills when it comes to writing murder mysteries, which are also her favorite to read. She's been working on a novel the past few years, as it can be a challenge to balance work, family time and other obligations and still have time for writing. Now, in retirement, she plans to make more time for sharing the stories that flicker like film in her imagination.
Stenso said the her temporary replacement will be at the Frazee Post Office through Christmas, after which someone will be appointed full time to the post master position.