St. Germain is thankful for opportunities
News | Published on December 8, 2021 at 12:27pm EST | Author: Chad Koenen
0
DL resident gets into family business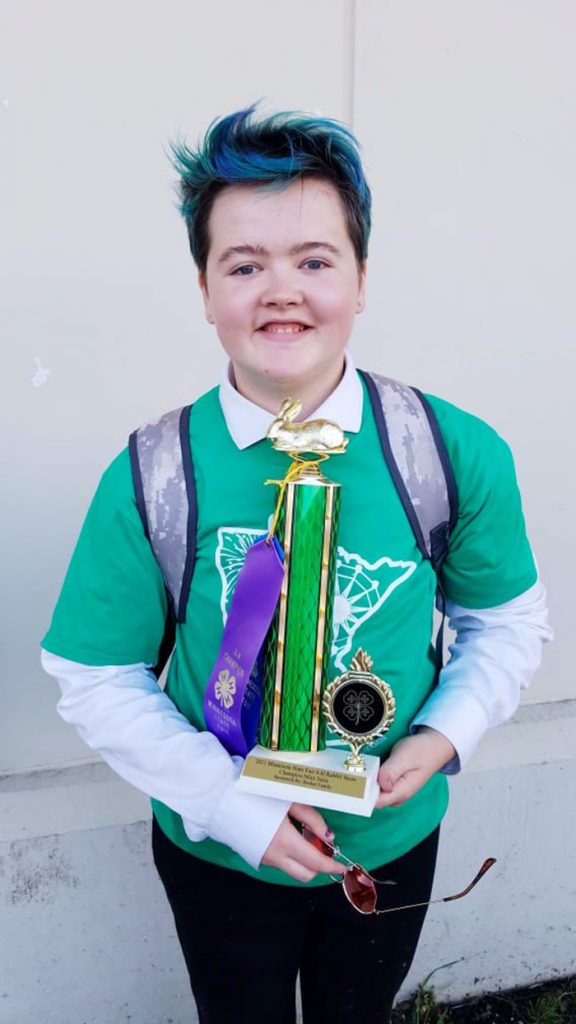 By Barbie Porter
Editor
Kirsten St. Germain is thankful for the activities that Frazee High School offers, as it allows her to grow as a person and experience teamwork.
"Being in activities, like FFA and the one act play are important to me," she said. "I enjoy the team effort and I'm not sure I can survive athletics. This way I still get new friendships and enjoy competition."
Her family is known for raising rabbits, providing winning photography and other creative arts at the Becker County Fair as a Burlington 4-H club member. There was a period when St. Germain stepped away from it all. She even got out of breeding rabbits, which is a family hobby.
"I just lost interest," she said. "I was going through a rough patch."
After visiting a national convention and seeing a variety of rabbits for purchase and chatting with breeders, she decided it was time to return to those things in childhood that were fun, and see if there was still interest in raising rabbits.
At a national convention and auction the family found "tans" that had quality breeding lines and were priced fairly low. St. Germain said the different breed of rabbits indicates their best uses. Tans, for example, are a running breed and are avid competitors in agility. The mini satin, on the other hand, are graded on the density of their fur and quality, which has a satin texture. There are also rabbits bred for the butcher block.
"There are a lot of ways to profit off them," St. Germain said.
While rabbits have large teeth, she said it is rare for the bunnies to bite. However, there are some with more anxious personalities, and that is when bites tend to happen.
"Some are even dramatic," she said. "I've had bunnies that squeal when someone picks them up, even though no one is hurting them."
The 17-year-old is also a member of the Frazee High School FFA Poultry team.
"My sister got me into FFA," she said. "I'm glad I joined because I learn, I have fun and I'm good at it."
She noted in Frazee's FFA program there is no social hierarchy; all members work together to help each other succeed, and during downtime enjoy a friendly chat.
"FFA and 4-H have helped me become a leader and be confident in myself enough to speak my mind," she said.
The daughter of Angelica and Theo St. Germain of Detroit Lakes said when she graduates from high school this spring her plan is to take a year off to contemplate what her career goals will be.
"I will have my AA Degree," she said, noting that reduces the amount of time taking generals in college. The career fields she is considering include teaching, the police and military.