The changing of the longstanding Queens of Minn
News | Published on December 8, 2021 at 11:40am EST | Author: Chad Koenen
0
Reigning queens prepare to relinquish their crowns
Who is the longest reigning monarch in the world?
At this time, it is Queen Elizabeth of England. Although in the local area, after 893 days Catherine and Grace Jaroszewski will be giving up their crowns as Miss Northwest and Miss Northwest Outstanding Teen on Dec. 18. The sister duo have accomplished many things in a reign of more than two years.
In 2019, Catherine was beginning her second year at The College of St. Benedict in St. Joseph, Minn. She was a very busy student with band, acapella choir, musicals, Alpha Kappa Sigma Service Sorority, Delta Epsilon Sigma National Honor Society, Benedictine Friends, and working. Lots and lots of working, it was not unusual for her to have two or three jobs at the same time.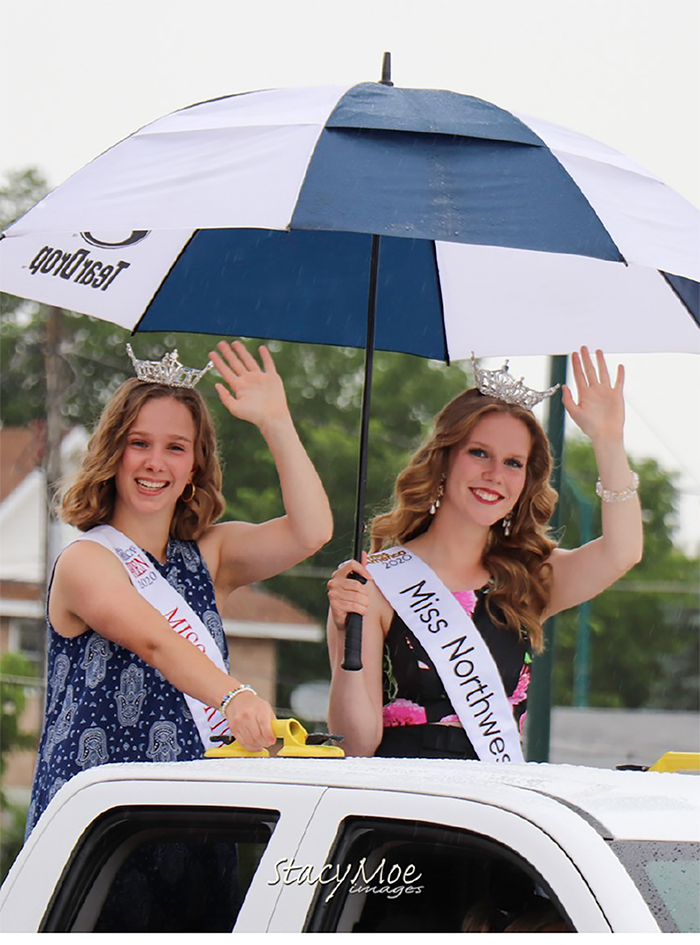 Even with COVID-19 restrictions, Catherine performed her junior and senior piano recitals via the Internet for family and friends. In 2021, she went on to graduate a year early with a Bachelor of Arts in Piano Performance, summa cum laude with a 3.99 grade point average. She was offered a full scholarship to attend the University of Minnesota-Duluth (UMD) for graduate school in the fall of 2021.
Catherine competed in the Miss Minnesota pageant in June 2021. She was voted into the Top 12 Finalists by the judges, as well as Miss Congeniality by her peers. She promoted her Social Impact Initiative, COLORS 4 KIDS. A recycling program for used crayons, as COVID-19 would allow.
She continues to work by teaching elementary and college students' piano through an Assistantship at UMD. Her future plans are to obtain her Doctorate of Music Performance and continue to teach at the University level.
Grace was beginning her junior year at Frazee-Vergas High School in the fall of 2019. She was a full-time Post-Secondary Education Option student. She was very busy with studio dance, competition dance teams, Student Council, Prom Committee, Frazee Fly Girl dance team and baseball manager. Grace managed to nanny and babysit many children in the Frazee area. She completed 52 college credits and was a Gold Honor graduate. Setting her sights high, she was accepted into Loyola University of Chicago. She received a number of scholarships from the local community as well as Loyola University.
Grace was able to compete in the Miss Minnesota Outstanding Teen pageant in March 2020. One day before the State of Minnesota COVID-19 shutdown. She also promoted her Social Impact Initiative, "Reading is the Magic Key" throughout her reign. She plans to complete her Bachelors of Science degree in Early Childhood Education/Special Education and Minor in Dance.
The girls together were a dynamic team. They rode and walked through countless parades throughout their three summers, attended numerous events, and took many pictures with young girls who too dreamed of being a Queen someday. Now, it is time for their reign to come to an end and pass on their titles to the next Miss Northwest and Miss Northwest Outstanding Teen.
The Miss Northwest pageant is the longest running pageant in the State of Minnesota and continues to provide scholarships and amazing experiences for many young women. Three Miss Northwest queens have been crowned Miss Minnesota and one was a fourth runner-up.
The 86th pageant will be held on Dec. 18 at the Lake Park-Audubon High School Auditorium.
For more information or to register for the pageant contact Rachel Kohler, Director at (218) 849-2295 or email MissNorthwestpageant@gmail.com