Evergreen family thankful during emergency
News | Published on December 23, 2021 at 11:43am EST | Author: Chad Koenen
0
Shop fire destroys farm equipment, tools
By Barbie Porter
Editor
Early Sunday, Dec. 5, Pastor Thomas Batchelder and his wife Hannah woke to take in the snow that had fallen the night before.
The pastor at St. Paul's Lutheran Church in Evergreen said he was contemplating getting started on shoveling when his wife ran across the house with purpose.
"She grabbed me and we looked out the window," Thomas recalled.
Smoke was rising to the sky. The Batchelder's knew the fire was coming from their neighbor's property about a mile away. Thomas quickly dialed the Lepistos phone number.
Mary Lepisto said the phone call woke her in the early morning hours. She recognized the voice but was confused as to why he was asking her what was on fire.
"I looked out the window and saw the shop was on fire," she said. "He said he was calling 9-1-1 and our neighbor, Jerron Aschnewitz, who lives about a mile away."
Mary noted her husband Chuck was driving truck at the time of the fire and was out in California. She quickly dressed and headed outside where she was met by her neighbor and son Tim, who lives on the edge of the property about a half mile away.
The three stood watching the flames engulf the structure as there was little else they could do.
"I was glad Chuck wasn't home because I think he would've been in the shop trying to get things out," Mary said.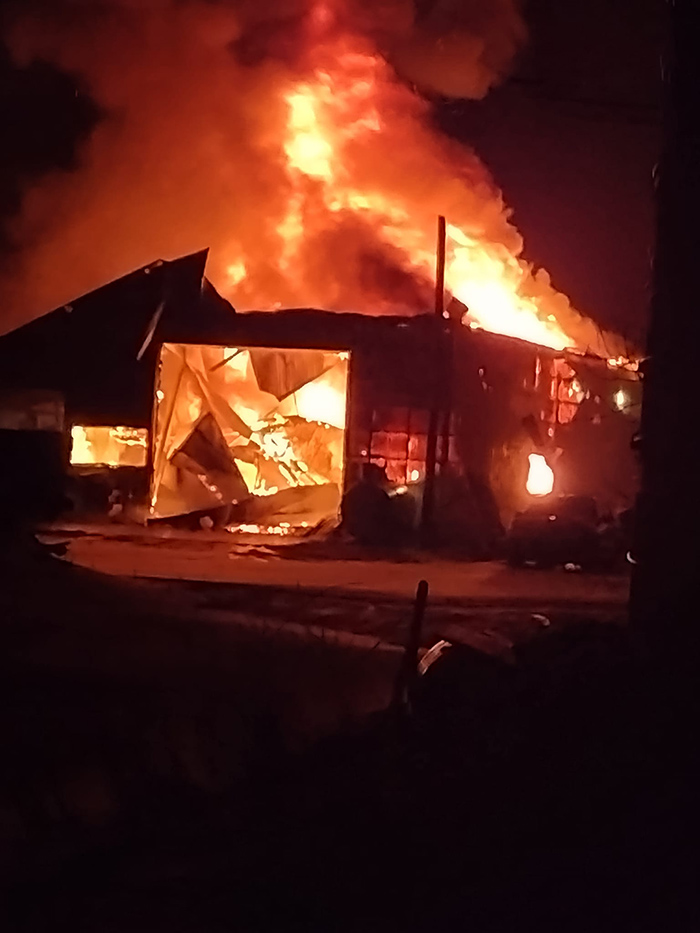 The 64-foot by 32-foot shop, with a 14-foot lean-to on one side, housed the farm pickup with snowplow attachment, manure spreader, skid steer, hunting rifles, tools and other typical shop equipment.
"My friend was storing his 1979 Kenworth truck and fish house in there too," Chuck said.
Mary estimated the fire department arrived about 15-to-20 minutes after the pastor had called her.
"It wasn't long, but at the time it seemed a lot longer," Mary said, adding the fire departments in Frazee, Wolf Lake and Detroit Lakes all arrived on scene. "I think it took a few hours for them to put it out. I'd guess they were here by 6 a.m. and left around 9 a.m."
The fire was blowing towards the snow packed field, instead of the homestead, but fire can shift suddenly.  
"Jerron had a bobcat track hoe and the fire department asked him to help knock down the walls so they could put the fire out faster," she continued.
The Lepisos do not know what caused the fire at this point, but they have been reminded what the fire took from them daily.
"It hits me over and over when I want to use something," Chuck said. "It is tough walking outside and seeing that building gone."
"He spent a majority of his time out there in the day," Mary said, noting there are always projects around the farm.
The two own a crop farm with 160 acres. The past few years they have raised soy beans, but were planning to switch to wheat next year.
The Lepistos are waiting to see what insurance covers, and in the meantime are counting their blessings that no one was injured and to be blessed with caring neighbors who checked on them when there was trouble and stood by their side during it all.
"We want to thank the pastor and his wife for calling us, and checking on us later, too," Mary said.
"Jerron and Tim were there helping and the fire departments," Chuck added.
"And all of our friends and families who offered to help whenever we need it," Mary said. "We really appreciate it."
Chuck said he plans to rebuild the shop next spring .