Fifth graders learn about Christmas around the world
News | Published on December 23, 2021 at 11:46am EST | Author: Chad Koenen
0
Walberg finds project to be pretty cool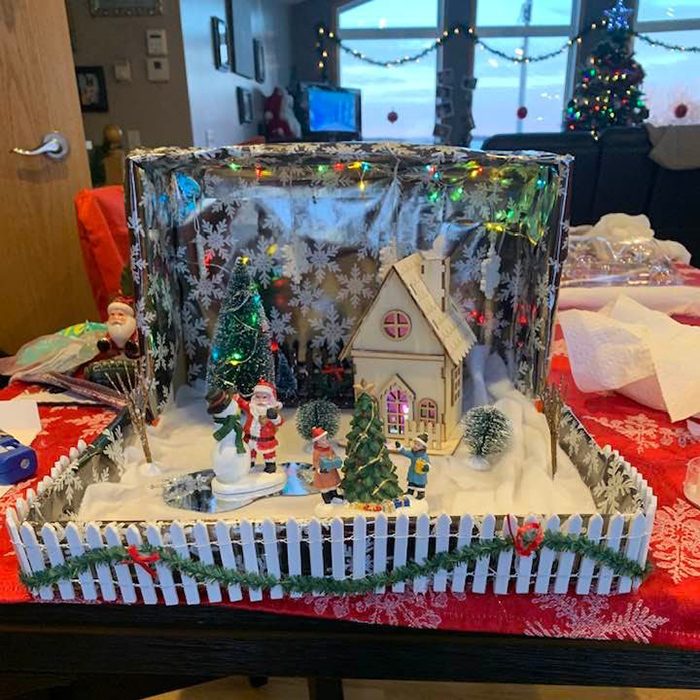 By Barbie Porter
Editor
Just before Thanksgiving break Max Walberg was given an assignment along with all of his classmates. They were to chew the fat with family and decide what country they wanted to feature in a diorama built on Christmas traditions.  ¶  A diorama is a model representing a scene with three-dimensional figures. In addition to the artwork each student had to also give a presentation to the class.
Walberg, a 10-year-old fifth grader in Andy Mekalson's class, said the day his class picked their country he was late due to "family business."
"There were two options left and Great Britain was one of them," he said, noting he was less than enthusiastic about the assignment at that point.
His mom, Melanie Walberg, who is a special education teacher in the Frazee-Vergas School District, noted her son was hoping to get Japan as he enjoys anime (animated cartoons created in Japan).
Even though Great Britain didn't strike Walberg's fancy, he took to the project like a studious student all the same. As he learned about the country and their Christmas traditions, he was "less disappointed" that his report was on Great Britain.
"What I learned made the country fun," he said. For instance, he noted they say Happy Christmas instead of Merry Christmas and Santa is know as Father Christmas. He added they have a day known as Boxing Day. While one may think it is a day for rambunctious behavior it is actually a day where people give to those in need.
"I thought that was cool," he said.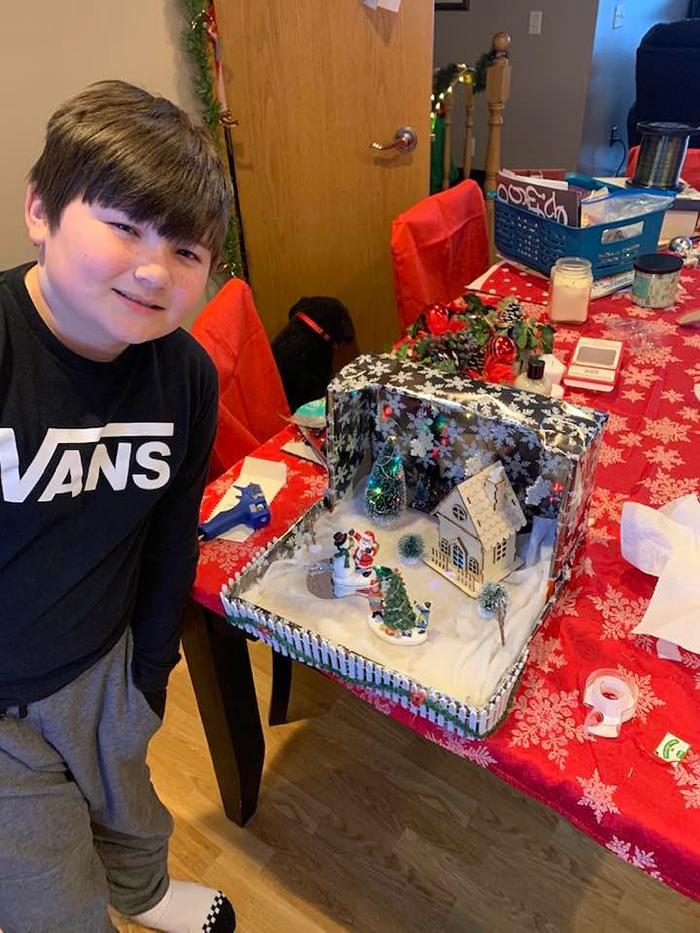 Another cool fact he found was that after Great Britain citizens enjoy a Christmas meal, they sit with tea and listen to Queen Elizabeth give a Christmas message.
He noted it would be neat to hear the message, but wasn't up for trying tea; unless it was iced tea.
After writing a report on how Great Britain celebrates Christmas, he began thinking about his diorama. Walberg said he wasn't sure where to start, but then his teacher suggested he envision scenery.
Walberg saw a Christmas tree, a quaint cottage home and plenty of snow. When the concept was flushed out, he went to work.
"The snow was the most difficult because it wouldn't stay put in the bottom of the box," he said. "When I went to hot glue something it would move and that didn't work. So, we stapled it. That worked well."
A small figure of Santa building a snowman on an ice rink next to a quaint cottage where people decorated a tree added to Walberg's vision. He used a paper with snowflakes for the background and created a picket fence for the front and sides of the diorama. 
"My favorite part are the lights and snow flakes at the top of the box," he said, noting his mom helped with the lights so there are lights on one of the trees as well as a switch to turn the lights on and off.
Walberg guessed there were about 21 students in his class. He said three brought their dioramas in before the e-learning day on Thursday, Dec. 16. (E-learning Day is where students learn from home via the internet instead of taking a snow day).
He said he was looking forward to learning about other countries and their Christmas traditions.
His mom added that this project is one that all fifth grade classes do annually. It affords students the opportunity to learn how big and diverse the world is in a fun, hands-on way. It also affords students the opportunity to work on speech skills.
Walberg said he isn't nervous about giving a presentation in front of his class "right now" but predicts he will become anxious when he is in class and right before his turn to present arrives.