Kropuenske carries senior tradition on his shoulders
Sports | Published on January 5, 2022 at 3:24pm EST | Author: Chad Koenen
0
Sole senior grappler shares how previous mentors helped him improve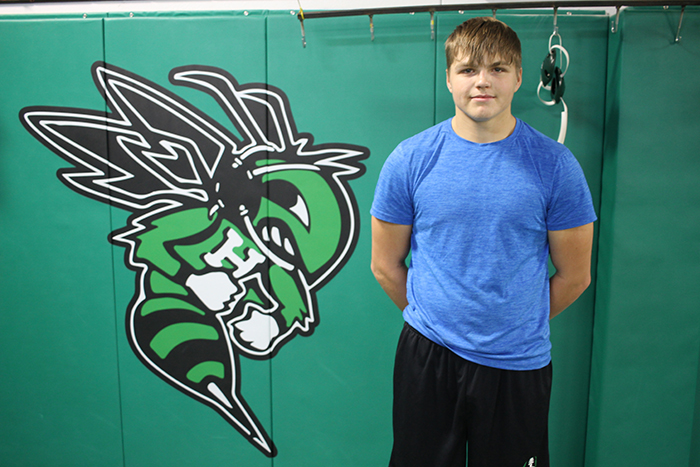 By Barbie Porter
Editor
Byron Kropuenske stands on the wrestling mat as the only senior on the team. After watching previous upperclassmen lead, he knows exactly what is expected of him.
At the age of 5, the son of Jessica and Jason Kropuenske, joined the sport that has a storied history in Frazee. Years of dominance on the mat brought fear to contenders that faced the Frazee High School grapplers during the regular season and post season. Year-after-year wrestlers from the Hornet's Nest head to the elite state competitions.
"Honestly, I joined the sport because I don't like sitting at home," he said, adding that hasn't changed from when he was in kindergarten to today.
He did notice changes in the athletic mentality, as he worked his way up from mat rats to varsity.
"Junior varsity is more relaxed. On varsity there is an added pressure. If you don't do well, it hurts the team and you. That made me nervous, but I learned to do all I can and to make up for any mistakes in practice," he said.
Staying true to the mentality of living in the present helped him develop his skills and walk a life without regret.
"The seniors before me taught me to not take this time for granted," he said. 
Kropuenske's skills have improved since those early years as a sophomore when he first stepped onto the varsity mat. However, he keeps the same thirst to continue learning and improving his game. 
Now, he added another weapon to his arsenal of talent ­— a mentor. He learned the importance of helping up-and-coming wrestlers from experience. He said, when he thinks of his favorite memories they lead back to the seniors. Each year, as he worked his way through the ranks, there were senior leaders who help him improve, and encourage him when Kropuenske felt he fell short of his potential.
He encouraged anyone considering wrestling to give the sport a try.
"It doesn't matter if you don't have friends that wrestle," he said. "It's fun and there are great coaches and teammates."
Kropuenske is looking forward to the rest of the season and set goals to work hard to help the team get to state, and send at least 11 individuals to the big show. Whether it is playing left guard for the football team or taking on 180-pound wrestlers, he knows when one joins a sport they never achieve anything going solo.