Love remains strong for DL couple
News | Published on January 5, 2022 at 3:40pm EST | Author: Chad Koenen
0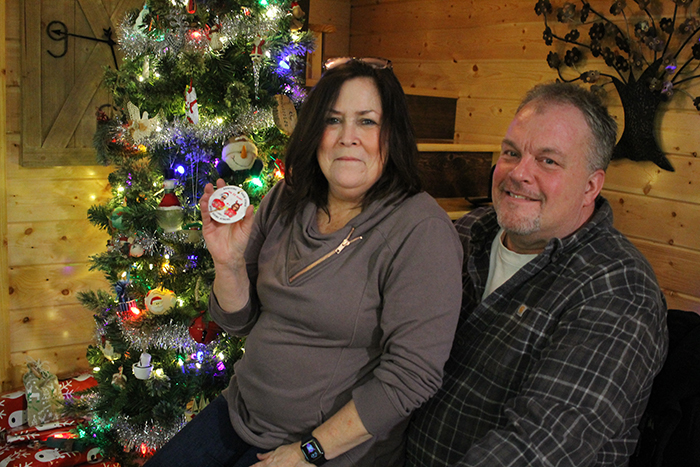 By Barbie Porter
Editor
Holidays can bring stress to any relationship, but Lisa McLeod-Foster and Shane Gigstead found a key to keep sane during it all—playful bickering.
McLeod-Foster, a 1981 Detroit Lakes High School graduate, grew up with four siblings.
Shane Gigstead grew up in Frazee and graduated from high school in 1985. The son of Gary and Karlene Negen and Gil Gigstead grew up with three brothers.
The two hung around with the same friends, but for years McLeod-Foster considered Gigstead to be "the jerk" of the bunch. In time his fun loving humor and drive for pranks grew on her. The two became confidants, sharing life's ups and downs.
However, Gigstead was a man on the move. Working in construction took him to the Twin Cities. So, many of their heart-to-heart conversations were over the phone. While something was blossoming between them, neither considered it to be anything more than friendship.
That all changed when McLeod-Foster learned another friend was a potential suitor of Gigstead's. After concluding a phone call with the smitten friend she hung up.
"When I threw the phone across the room," she said. "I realized then that I might like him."
When he moved back to the area, the two began their courtship. The bond was strong and the laughter ever present.
"I invited him to come visit, and he never left," she said, then divulged it made more sense to have one home instead of two, since one of them was always at the other's place anyway.
As the two chatted about what they found so appealing in one another, it became obvious that teasing each other for a honest laugh has kept their relationship strong through 22 years.
After the ribbing that comes almost as a reflex is peeled away, Gigstead acknowledged he hates talking about "this kind of stuff," but said McLeod-Foster is fun to be around because she makes him funnier.
"He thinks he's funny," McLeod-Foster retorted. "But, I don't think he is." She then noted when they began dating it was hard to get mad at Gigstead. With a smile lifting on her face, she added, "that's not the case now."
While the two may not agree on many things, they find common ground with appreciating being home for the holidays and spending that time with family.
"I worked many holidays in a group home, so I know what it's like to be away," she said. "Now, all but one of our kids are married and appreciate the full house."
Just as they are ready for any call to help a family member in need, they are also there for one another. McLeod-Foster recalled when she was in a car accident in the fall, the love of her life knew she would be anxious.
"I have a car-less anxiety," she said. "Without saying a word, he had a car for me the same day—that afternoon."
As the world heads into the uncertainty of 2022, the bickering couple will undoubtedly find reasons to poke fun at one another, play a few pranks and know if it all goes to pot, they aren't in it alone.