Decision making is key for FHS senior
Sports | Published on January 19, 2022 at 11:21am EST | Author: Chad Koenen
0
Senior learns much from basketball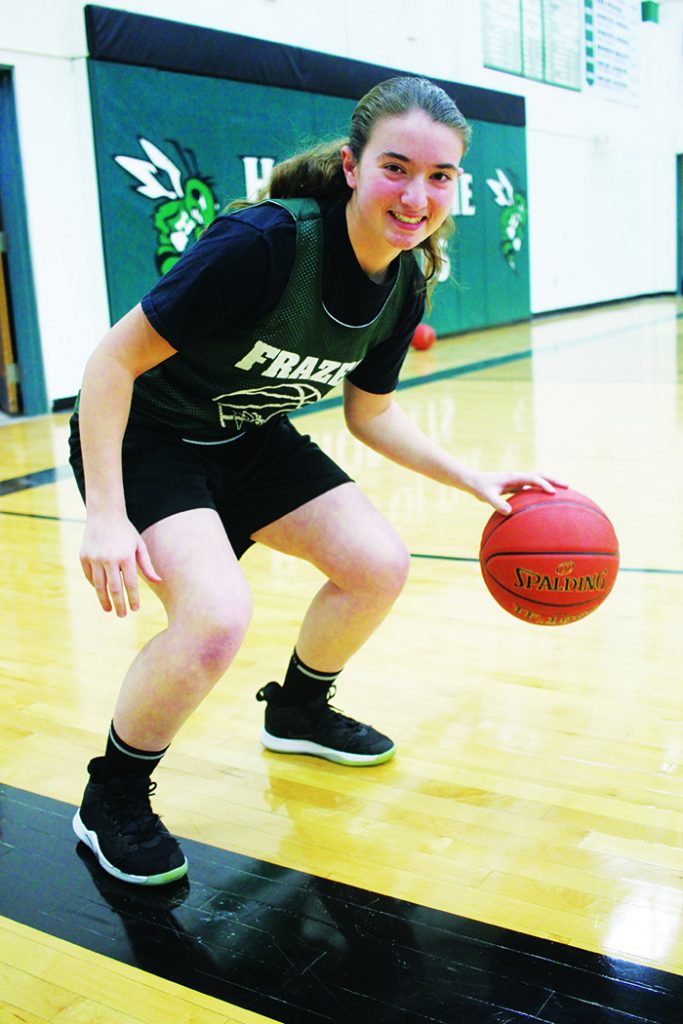 By Barbie Porter
Editor
Malena Mahoney stepped into the position of point guard for the Frazee High School basketball team in fourth grade and has been a steady leader for the Hornets ever since.
The appointed position became something she appreciated quickly, as it was her job to drive the ball down the court, call plays and pass the ball to open teammates. Being in the thick of the action, and having the opportunity to help her teammates shine, has been second nature to the daughter of Tanya and Michael Mahoney.
While some cagers may wander from the sport, Mahoney said the fast-paced sport won her heart, as it offered her the ability to grow as a person. Her growth came with understanding what being part of a team meant as well as how to be a leader. She saw those life skills in action when she missed an opportunity on the court as a young varsity player. Falling into the trap of self depreciation and dwelling, it was the upperclassmen who lifted her up, helped her refocus and understand the road to perfection is paved by mistakes.
She put those lessons into practice and as a senior is doing her part to uplift and guide underclassmen. The result has been a never die attitude on the court that has brought success when it was unexpected.
It is that bounce back mentality that impresses Mahoney most about her teammates. She noted they had two recent wins, and have a tendency to start slow, but steadily climb back into contention for a win, even against those sharp shooting teams.
Mahoney also strives to develop the skills of the up-and-comers so when seniors return to the Hornet's Nest as fans, they see a team that continues the tradition of working hard on the court.
Leading the varsity team throughout Mahoney's career has been Jason Reierson. She is hopeful her coach stays at the helm for the next generation of Lady Hornets and applauded his coaching methods, which exhibit a commitment to see the team succeed on and off the court every day.
In addition to life skills and physical health, Mahoney noted there is one more benefit she found by being in basketball—decision making. She said that is not always her strong suit, but on the court there are milliseconds to see an open pass or find an open shot. Having that pressure has improved her ability to make a decision, something she has to do soon when picking which college to attend.
With her favorite class being calculus, Mahoney hopes to put those half page work problems into practice with a degree in computer science and statistics. Mahoney will graduate with an associates degree, meaning she only has two more years to go for a bachelor's degree. While she has two top contenders for her post-secondary education, there is only one dream job for the senior.
"My ultimate goal is to work for Disney," she said, noting she grew up watching the magical movies, her family vacations have been based around the adventure theme park and being part of the magic would be a dream.
Mahoney said her field would open many doors, from computer animation to Java scripting, programing rides, building websites and developing games. As far as delving into statistics, she noted "Any business can use information about that."