Rural Frazee man makes history at Roger Maris
News | Published on January 25, 2022 at 4:19pm EST | Author: Chad Koenen
0
Erickson battles blood cancer, is first person to receive specialized transfusion at Roger Maris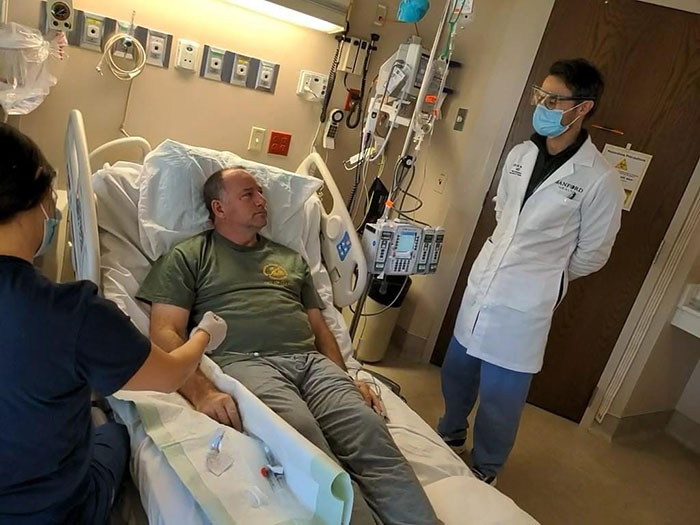 By Barbie Porter
Editor
Eric Erickson of rural Frazee was the first patient ever to receive a bone marrow transplant at Sanford Roger Maris Cancer Center. "They told me up front they may not be ready for a transplant, but I could start there," Erickson said. As the necessary treatment date approached, Erickson was told he could have the procedure done much closer to home. While it would be the first time a bone marrow transplant was done at the Fargo cancer center, those doing the work were experts in the field. Erickson noted Sanford Roger Maris Cancer Center hired specialists with experience, and he felt in very capable hands.
"I didn't know I would be the first patient though. That was a little surprise."

Eric Erickson on receiving a bone marrow transplant at Sanford Roger Maris Cancer Center
The surprise was a true blessing, he said, noting others needed the treatment as well. Being the first patient allowed him to not have to travel to the Twin Cities, and being closer to home meant a lot to Erickson, his wife Melanie and their three sons: Colby, Eric and Arron.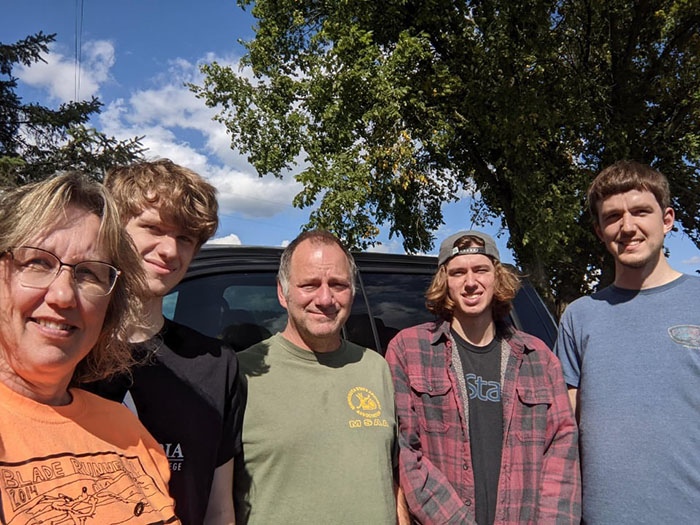 It all started with a sore back
The realization something was amiss began with a sore back in February of 2021. He went to the chiropractor for a few months, but the pain grew worse. His right arm also begin hurting. Erickson knew it was more than sore muscles.
Erickson saw his primary care physician, who sent him to see an orthopaedic specialist where X-rays were taken and potential causes for his ailment ruled out. The tests also showed a small mass in his right lung. Upon a closer look, the small mass was about the size of a golf ball and there were several other masses ranging from the size of an eraser to a marble.
Erickson was referred to Sanford Roger Maris Cancer Center. While trigger words like cancer and masses gave Erickson tunnel vision as sound seemed to decrease in volume as his thoughts seemed to stall and time slowed.
As reality set in, and a diagnosis of multiple myeloma was made on June 17, Erickson learned why Sanford Roger Maris Cancer Center is so often applauded. It was there he had a biopsy procedure and the specific blood cancer he had was explained. Erickson said cancer forms in a plasma cell, which causes them to accumulate in bone marrow and destroy healthy blood cells.
Erickson was provided with a plan of attack. It included chemo and immunotherapy drugs to begin, which was followed up with a bone marrow transplant. While bone marrow transplants are common at some facilities, the procedure had never been performed at Sanford Roger Maris Cancer Center.
Erickson explained prior to the procedure, his bone marrow was harvested four days prior to the transplant.
He compared the extraction procedure being similar to a dialysis machine, but with ports in the heart. The bone marrow harvesting took seven hours each day and his blood was cycled three times through a machine.
"It looked like pink pudding," he said.
Following the harvesting, with adequate time spaced between, there was a strong round of chemotherapy and the transplant. After the transplant Erickson remained in the hospital for 21/2 weeks.
"I was able to get out sooner than anticipated," he said. "Their staff is absolutely top notch and I don't know if I could've received better treatment."
Erickson said the road to recovery has begun, but with blood cancer will mean he needs continuous care to keep the cancer in check.