Hornets sweep triangular against Barnesville, WDC
Sports | Published on February 4, 2022 at 11:26am EST | Author: Chad Koenen
0
Wrestlers to compete in triangular on Thursday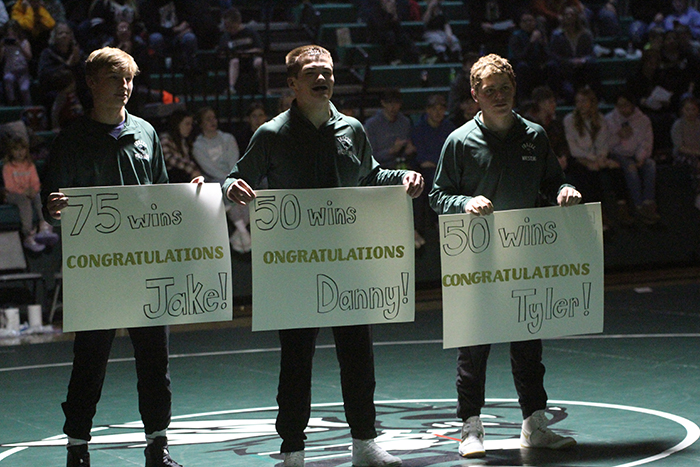 By Chad Koenen
Publisher
The Frazee Hornets swept a triangular on Thursday night against a pair of familiar opponents.
The Hornets defeated Barnesville and Wadena-Deer Creek by a combined score of 123-30 to secure a pair of wins. The next night, the Hornets packed the gym as they hosted Perham in a Highway 10 clash between the two neighboring schools. Unfortunately, the Yellowjackets were able to hold off the Hornets charge to come away with the win.
This week the Hornets compete in a triangular in Park Rapids against the Panthers and Hibbing in their lone action of the week.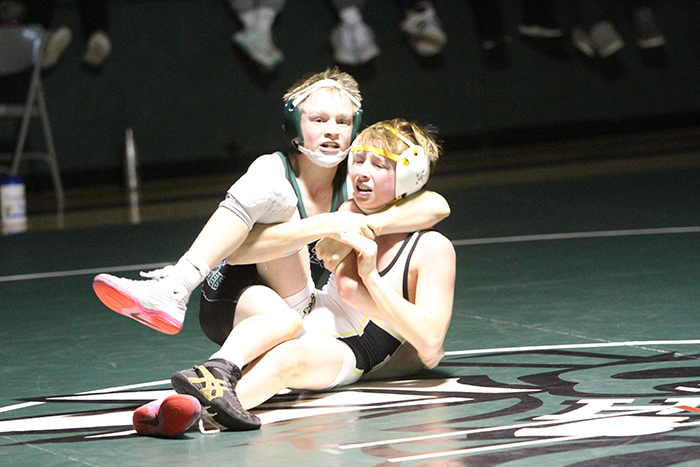 Thursday
Frazee swept a triangular in commanding fashion on Thursday night as the Hornets outscored Barnesville and Wadena-Deer Creek by a 123-30 margin.
In their match against the Trojans, the Hornets won six matches by forfeit and Tyler Moe picked up a pin over Hunter Blilie of Barnesville in just 57 seconds at 138 lbs. Erick Rodelo also secured a pin at 195 lbs. to help the Hornets come away with a 54-24 win.
In their match against the Wolverines, the Hornets cruised to a 69-6 win. The Wolverines won just two decisions, while the Hornets secured seven wins by forfeit.
Cash Osterman got the match going with a pin in just 30 seconds at 106 lbs. Brady Borah also secured a quick pin at 126 lbs. to give the Hornets an 18-3 lead when he pinned Jaydyn Kenney in just 59 seconds.
Following four straight forfeits from 132 lbs to 152 lbs., Max Rue defeated Eli Benning by a 7-1 decision to put the Hornets up by a score of 45-3.
Jack Graham secured Frazee's third pin of the night when he pinned Brandon Wheeler in just 1:20 in the first period at 170 lbs.
Xander Kohler brought the match to a close with Frazee's fourth pin of the night when he was able to put Matthew Wegscheid flat on the mat to end his 285 lbs. match in just 1:24. The pin gave the Hornets a 69-6 win.
Frazee 54 Barnesville 24
106: Cash Osterman (FRAZ) over (BARN) (For.)
113: Asher O`Brien (BARN) over Liam Hamm (FRAZ) (Fall 0:56)
120: Sebastian Sonnenberg (FRAZ) over (BARN) (For.)
126: Brady Borah (FRAZ) over (BARN) (For.)
132: Ayden Hauck (BARN) over Bailey Peichel (FRAZ) (Dec 9-4)
138: Tyler Moe (FRAZ) over Hunter Blilie (BARN) (Fall 0:57)
145: William Rotz (BARN) over Josh Mellema (FRAZ) (Dec 7-6)
152: Jake Nagel (FRAZ) over (BARN) (For.)
160: Max Rue (FRAZ) over (BARN) (For.)
170: Jack Graham (FRAZ) over (BARN) (For.)
182: Daniel Graham (FRAZ) over (BARN) (For.)
195: Erick Rodelo (FRAZ) over Gavin Grommesh (BARN) (Fall 5:47)
220: Jordan Kroll (BARN) over Byron Kropuenske (FRAZ) (Fall 1:37)
285: Tim Wells (BARN) over Xander Kohler (FRAZ) (Fall 0:41)
Frazee 69 Wadena-Deer Creek 6
106: Cash Osterman (FRAZ) over Chloe Wehry (WDC) (Fall 0:30)
113: James Seelhammer (WDC) over Liam Hamm (FRAZ) (Dec 5-2)
120: Sebastian Sonnenberg (FRAZ) over (WDC) (For.)
126: Brady Borah (FRAZ) over Jaydyn Kenney (WDC) (Fall 0:59)
132: Bailey Peichel (FRAZ) over (WDC) (For.)
138: Tyler Moe (FRAZ) over (WDC) (For.)
145: Josh Mellema (FRAZ) over (WDC) (For.)
152: Jake Nagel (FRAZ) over (WDC) (For.)
160: Max Rue (FRAZ) over Eli Benning (WDC) (Dec 7-1)
170: Jack Graham (FRAZ) over Brandon Wheeler (WDC) (Fall 1:20)
182: Koby Endres (WDC) over Daniel Graham (FRAZ) (Dec 5-2)
195: Erick Rodelo (FRAZ) over (WDC) (For.)
220: Byron Kropuenske (FRAZ) over (WDC) (For.)
285: Xander Kohler (FRAZ) over Matthew Wegscheid (WDC) (Fall 1:24)