Phelps Mill building closed for repairs park remains open
News | Published on February 4, 2022 at 11:49am EST | Author: Chad Koenen
0
County owned park originally opened in 1889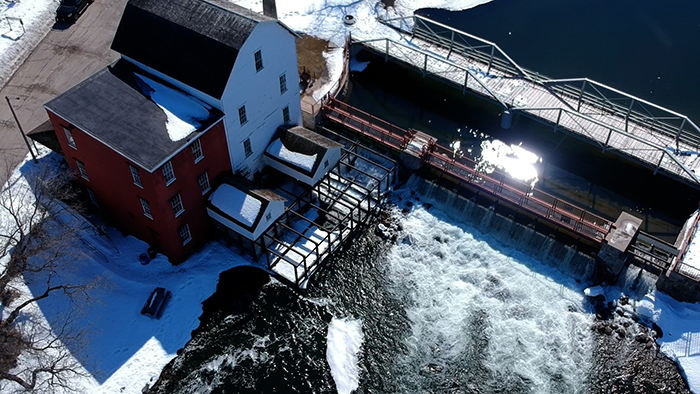 The mill building at Phelps Mill Park will be closed for repairs beginning Jan. 24. The historic Phelps Mill and the surrounding park is a cherished place in Minnesota.
Built in 1889 and listed on the National Register of Historic Places in 1984, Phelps Mill is a rare example of a late 19th century water-powered flour mill.
Due to its historic significance and special nature, the county applied for grants to fix the foundation and make other repairs to the mill to ensure the legacy of this treasured place. The mill building is expected to reopen in September of 2022.
According to the Otter Tail County Historical Society, in 1887 William Thomas began work on the dam and the mill building followed.
The mill, originally called the Maine Roller Mills, was constructed in 1889 and was equipped with the latest in milling equipment. Thomas sold the mill in 1920 and it was resold in 1928 to H.G. Evenson to grind feed.
The mill closed permanently in 1939. The building stood empty until the mid-1960s when county commissioners agreed to purchase the property as part of a county park. Since the building was abandoned for over 26 years, and tens of thousands of people have walked through the mill since becoming a county park, urgent repairs are needed.
The restoration and repair work are intended to retain as much of the building's historic fabric as possible, stabilize the structure, and make significant repairs to preserve it into the future.
"The foundation stabilization work involved with this project will literally lay the foundation for a long-lasting renewal of the Phelps Mill building, said Kevin Felbaum.
"Preserving Phelps Mill connects us to the events, people, and lifestyles of the past."
Otter Tail County's Park and Trails Department is a new program actively working to preserve the dam, general store and Miller's house, though these features are not included in the scope of the grants. Two grants were received for the repairs: a Minnesota Historical Society grant for $140,000 and a State Capital grant for $275,000.
All work will be designed to meet the Secretary of the Interior's Standards for Historic Preservation for historical architecture and engineering. The work will be completed by Eagle Construction Company of Little Falls, Minn.
The work will occur in phases of priority with the repair of the foundation beginning in January. Other work will consist of repairing the boardwalk and covered unloading dock, replacement of damaged windows, repainting exteriors as well as other structural repairs and restoration. Though tours of the mill building will not be available until September, visitors are encouraged to enjoy the amenities of the county park.
Special events may still be held at the beautiful park.
Picnic shelters may be reserved, and the annual Phelps Mill Festival will be held in July.
For more information visit: www.ottertailcountymn.us/phelps-mill/