Polar Plunge to benefit Special Olympics
News | Published on February 4, 2022 at 12:11pm EST | Author: Chad Koenen
0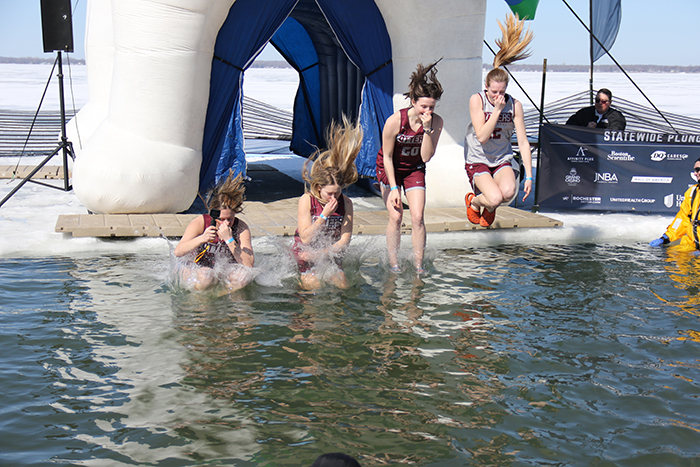 Otter Tail Lakes Country Association (OTLCA), the Otter Tail County Sheriff's Office, and Special Olympics Minnesota are preparing for the third annual Polar Plunge on Feb. 5. Approximately 150 individuals are signed up to take the plunge and more than $40,000 has been raised. All funds raised by plungers help Special Olympics Minnesota provide year-round training and services to over 8,100 athletes across the state. For example, a $300 donation provides the necessary equipment for an entire young athlete's season.
Otter Tail County Sheriff Barry Fitzgibbons shared why he will take the plunge.
"The Polar Plunge is a great opportunity to unite and educate communities about the Special Olympics and to raise money for this great organization," said Fitzgibbons. This is an event that can unite different groups, organizations, and law enforcement for a common goal. The money raised gives the athletes the opportunity to participate in several different events, from bowling, basketball, golf, track and field and many more. The smiles on the faces of the athletes is priceless."
Marketing and Membership Director for OTLCA, Marie Noplos, is very involved in planning the event, but she also plans to take the plunge. "I know jumping into a frozen lake in February might not seem like a good time, but it is! I enjoy everything about it. The friendly competition to raise money for this great cause, seeing communities come together, cheering fans and even the icy water that literally takes your breath away. Most of all is knowing that 100 percent of the money raised goes to help Special Olympics athletes participate in activities throughout the year."
We encourage you to sign up or donate before February 5. You do not have to jump to donate. For more information and to register visit www.plungemn.org/events/ottertail/.
Spectators are invited to attend the Polar Plunge and encouraged to use the shuttle from The Otter, located at 306 Hwy 78 in Ottertail. Onsite parking at the Sportsman Landing is limited. The event will be livestreamed on Otter Tail Lakes Country's Facebook page at www.facebook.com/OtterTailCountry.