Freeman makes a mark in TaeKwonDo
News | Published on February 10, 2022 at 2:02pm EST | Author: Chad Koenen
0
Frazee resident earns junior black belt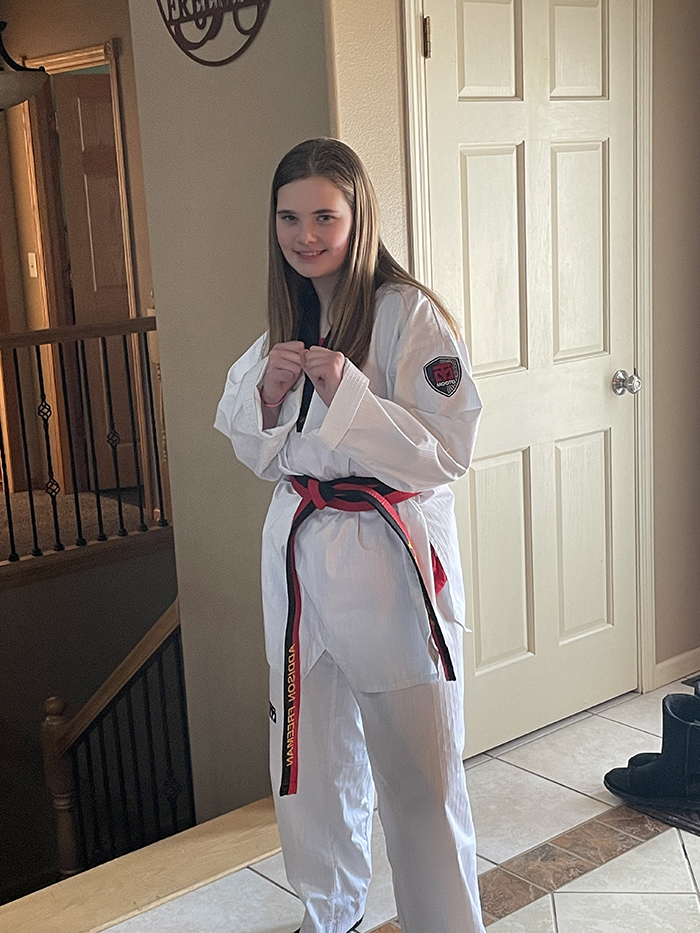 By Chad Koenen
Publisher
Addison Freeman may just be 11-years-old, but the Frazee resident has a roundhouse kick that can turn more than a few heads.
The daughter of Rhonee and John Freeman, Addison joined TaeKwonDo just 3 1/2 years ago. Just a few short years later, Addison earned her junior black belt and is working on learning the skills necessary to achieve more degrees on her new black belt.
"I was surprised, but I was nervous when I tested," said Addison.
Looking for a way to boost her self esteem and confidence, Addison's grandma encouraged her to join TaeKwonDo. She quickly took to the activity and has excelled at learning not only the physical activities of TaeKwonDo, but about the Korean culture as well.
"The idea was to boost self esteem. It was to build some confidence and it has been so good for her," said Rhonee.
The Frazee fifth grader joined the Detroit Lakes School of TaeKwonDo under the direction of Lucas Holzhueter. In addition to learning all of the physical aspects of TaeKwonDo, Rhonee said Holzhueter believes that students under his direction should be good people and examples for how to act in the public. It is for that reason that students need to have earn the right to test for the next belt and parents need to let the teacher know that the students are being good people at home, as well as in the classroom.
"He is really big on the kids carrying that out of the gym," said Rhonee.
Students also need to learn about the Korean culture, how to count in Korean and Korean terminology. Addison tested for her junior black belt in Bemidji in October, and is working on the various degrees of black belts. She has learned seven different board breaks. Students cannot test for a full black belt until she is a teenager.
Addison said she has really enjoyed the opportunity to be in TaeKwonDo.
"I get to learn self defense," she said of her favorite part of the activity.