Hornets sweep triangular against Hibbing, Park Rapids
Sports | Published on February 10, 2022 at 12:25pm EST | Author: Chad Koenen
0
Frazee to host Detroit Lakes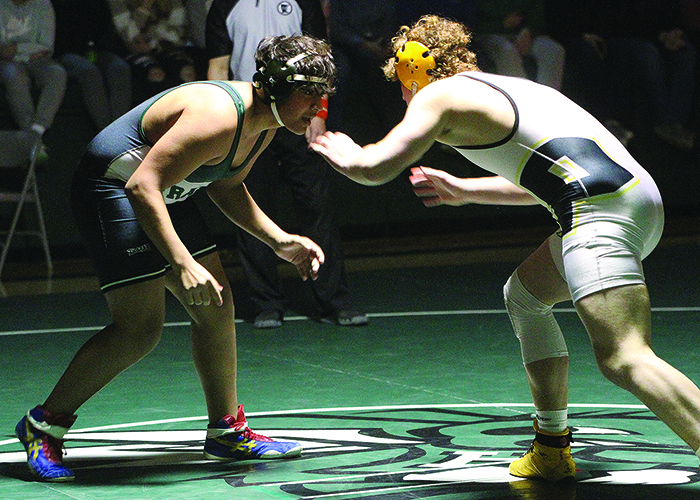 By Chad Koenen
Publisher
Frazee improved to 9-8 on the season as the Hornets swept a triangular against Hibbing and Park Rapids Area on Thursday night.
In their match against Hibbing, the Hornets dominated the lighter weights as Cash Osterman picked up a pin right as time expired in the first period of his match against Nehemiah Figueroa at 106 lbs.
Following a forfeit at 113 lbs., Sebastian Sonnenberg gave the Hornets a 9-6 lead when he secured a 6-2 decision. Frazee picked up a second straight decision when Brady Borah won by an 8-3 decision at 126 lbs. and Brady Peichel gave the Hornets an 18-6 lead when he secured a pin in just 52 seconds at 132 lbs.
Tyler Moe won the fourth straight match for Frazee at 138 lbs. when he secured a pin in just 28 seconds over Luke Tichy of Hibbing. Following a Josh Mellema win by forfeit at 145 lbs., Jake Nagel won Frazee's sixth match of the night when he secured a pin over Jack Bautch of Hibbing in just 1:17 at 152 lbs.
Hibbing won the next two matches, before Daniel Graham put the match out of reach as he secured a 6-4 decision over Thomas Hagen of Hibbing to give the Hornets a 39-15 lead heading into the 195 lbs. match. The Hornets dropped the next two matches by fall and forfeited the heavyweight match.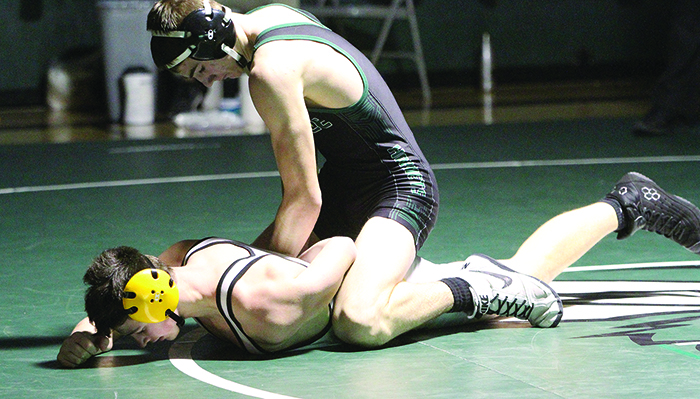 In their match against Park Rapids Area, the two teams wrestled just six matches with the Hornets picked up a pin and a pair of tech falls to come away with a 52-27 win. No matches were wrestled after 145 lbs. as both teams forfeited the final seven matches of the night with the Hornets coming out on the right side of six of those forfeits.
Frazee's regular season will come to an end this week as the Hornets will host Detroit Lakes on Thursday night for a dual, before the section tournament gets underway next week.
Frazee 39 Hibbing 33
106 Osterman, Cash (Frazee) over Figueroa, Nehemiah (Hibbing) Fall 2:00
113 Thronson, Preston (Hibbing) over Forfeit, (Frazee)
120 Sonnenberg, Sebastian (Frazee) over Martin, Gabe (Hibbing) 6-2
126 Borah, Brady (Frazee) over Roy, Ethan (Hibbing) 8-3
132 Peichel, Bailey (Frazee) over Ekanem, Jacoby (Hibbing) Fall 0:52
138 Moe, Tyler (Frazee) over Tichy, Luke (Hibbing) Fall 0:28
145 Mellema, Josh (Frazee) over Forfeit (Hibbing)
152 Nagel, Jake (Frazee) over Bautch, Jack (HIBBING) Fall 1:17
160 Larrabee, Bryson (Hibbing) over Rue, Max (Frazee) Fall 2:18
170 Hendrickson, Cooper (Hibbing) over Graham, Jack (Frazee) 13-12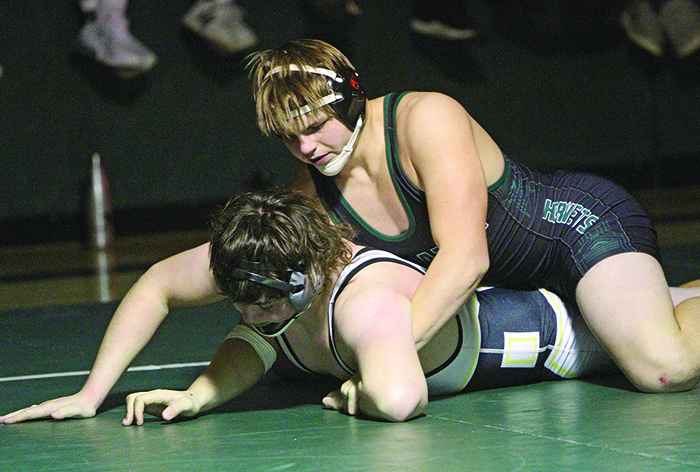 182 Graham, Daniel (Frazee) over Hagen, Thomas (Hibbing) 6-4
195 Shay, Drew (Hibbing) over Kropuenske, Byron (Frazee) Fall 3:01
220 Larrabee, Ian (Hibbing) over Kropuenske, Byron (Frazee) Fall 1:16
285 Powers, Wylder (Hibbing) over Forfeit, (Frazee)
Frazee 52 Park Rapids Area 27
106 Sherk, Robby (Park Rapids Area) over Osterman, Cash (Frazee) Fall 4:17
113 Maanum, Aiden (Park Rapids Area) over Forfeit, (Frazee)
120 Clark, Wrigley (Park Rapids Area) over Sonnenberg, Sebastian (Frazee) Fall 1:13
126 Borah, Brady (Frazee) over Thorson, Henry (Park Rapids Area) Fall 4:44
132 Peichel, Bailey (Frazee) over Galzki, Jarrett (Park Rapids Area) 18-2
138 Moe, Tyler (Frazee) over Johanning, Andrew (Park Rapids Area) 18-2
145 Kritzeck, Lucas (Park Rapids Area) over Mellema, Josh (Frazee) 6-0
152 Nagel, Jake (Frazee) over Forfeit (Park Rapids Area)
160 Rue, Max (Frazee) over Forfeit (Park Rapids Area)
170 Graham, Jack (Frazee) over Forfeit (Park Rapids Area)
182 Graham, Daniel (Frazee) over Forfeit (Park Rapids Area)
195 Double forfeit
220 Kropuenske, Byron (Frazee) over Forfeit (Park Rapids Area)
285 Johnson, Dandre (PARK RAPIDS AREA) over Forfeit, (Frazee)