Fairbanks named FHS Teacher of the Year
News | Published on February 15, 2022 at 5:40pm EST | Author: Chad Koenen
0
'We are lucky to have a teacher like Molly at FHS'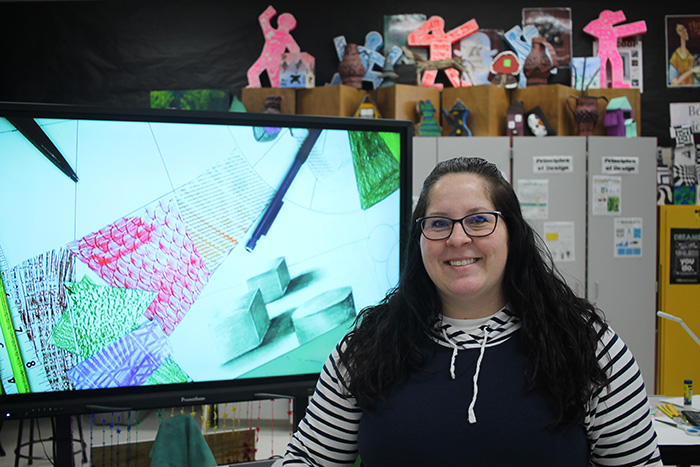 By Barbie Porter
Editor
Molly Fairbanks never saw it coming. She was in her classroom at Frazee High School as the monitors all began playing her favorite song, "Don't Stop Believing" by Journey. As her head bobbed to the beat, a short film of the Teacher of the Year began to play. The pictures took a familiar turn—they were of her.
"There was a ballot with 20 names on it, and every one of them were deserving of the award," she said. "It is an amazing honor to be selected by the staff and a privilege to work with them."
Some of her colleagues may say the same of her. Frazee High School Science Teacher Tavia Bachmann said Fairbanks "wears her heart on her sleeve and truly cares about her students, colleagues and all who are involved" in the school.
"She continually goes out of her way to provide positive experiences for students and to help them attain success. She is a true advocate for her students and reaches beyond the walls of her classroom to provide an environment where students feel supported. We are lucky to have a teacher like Molly (Fairbanks) at FHS."

Tavia Bachmann on her coworker, Molly Fairbanks
Family and Consumer Science teacher Taylor Drewes concurs with Bachmann about the impact Fairbanks has with students.
"Molly (Fairbanks) is truly a hands-on teacher who is in it for her students," Drewes said. "She brings great energy to our school and is always willing to lend a helping hand to both students and staff. Her positivity is uplifting and she makes me want to become a better teacher each and every day. It is an honor to work in the same school as her."
Frazee High School Principal Anna Potvin also applauded Fairbanks' work with students, noting when she visits her classroom the pupils are engaged in their assignments. She also finds ways for her students to have their talents showcased outside of the school, such as participating in Polar Fest's snow sculpture contest and hosting an annual art show.
Potvin added that Fairbanks is creative in finding ways to reach all students when she spearheaded an effort to post inspiring messages throughout the school. She also holds a kindness week, which includes interactive art showing how students show kindness to each other.
The Detroit Lakes native found herself being pulled to developing her artistic talents in high school. She recalled in her sophomore or junior year her art teacher encouraged her to dive into drawing, as well as explore other mediums. When she broadened her horizons, Fairbanks found graphic design and another passion­—computers.
After graduating from Detroit Lakes High School in 2002, Fairbanks attended M-State and earned a diploma in graphic design.
"After graduating I found out I needed to move to a big city to get a job in my career field. So, I took a year off and figured out what I wanted to do."

Molly Fairbanks
While contemplating on a career that would provide satisfaction and inspiration and tapping into her artistic talents, she saw a clear path to becoming a teacher.
Fairbanks noted she grew up in a home where she was always teaching. Her parents owned a group home, where she had worked since she was 15, helping residents with art projects, gardening and other activities.
She returned to college and earned her teaching degree for art education in grades K-12. While she could work in the elementary, her eye was always set on middle school or high school where more complex art can be created. She began her teaching career in 2009 and slowly moved back to the lakes area, landing at Frazee High School in 2015.
Since arriving, Fairbanks has enhanced the photography and graphic arts curriculum and continues to serve students on a more traditional artistic path as well.
Helping students improve their artistic aptitude is one obvious perk about being a teacher. Fairbanks said in her years of teaching the most unexpected thing she appreciates about her job are the opportunities to build relationships with students.
"I see the kids first in seventh grade and then anytime between ninth and 12th, depending if they take more art classes," Fairbanks said. "Some I see three or four years, others I don't see. They need to take a year of fine art, and that includes band and choir."
Fairbank's career is a large part of the life she built with her husband Nick and their two sons: Nolan, 31/2, and Max, 8 months, and it goes beyond the classroom.
Activities Director Nick Courneya noted Fairbanks has been junior high softball coach, as well as an assistant varsity volleyball coach before taking the head coach position.
"She also coordinates the Day of Caring," Courneya added. "With Molly (Fairbanks) you know, and trust, that things will be organized and taken cared of … hence why she is the Day of Caring coordinator. That is a very tough task as organization is crucial. If she is running a meeting it has an agenda. If there is a deadline, it is met. You can always bank on the job getting done when she is involved."
Courneya added Fairbanks continually impresses with her drive for self improvement as well.
"I believe Molly (Fairbanks) has only begun to tap into her credentials and is learning and changing each day to make herself better," Courneya said.