Johannsen joined basketball to follow in his father's footsteps
NewsSocials | Published on February 15, 2022 at 4:50pm EST | Author: Chad Koenen
0
Senior plans to focus on running in college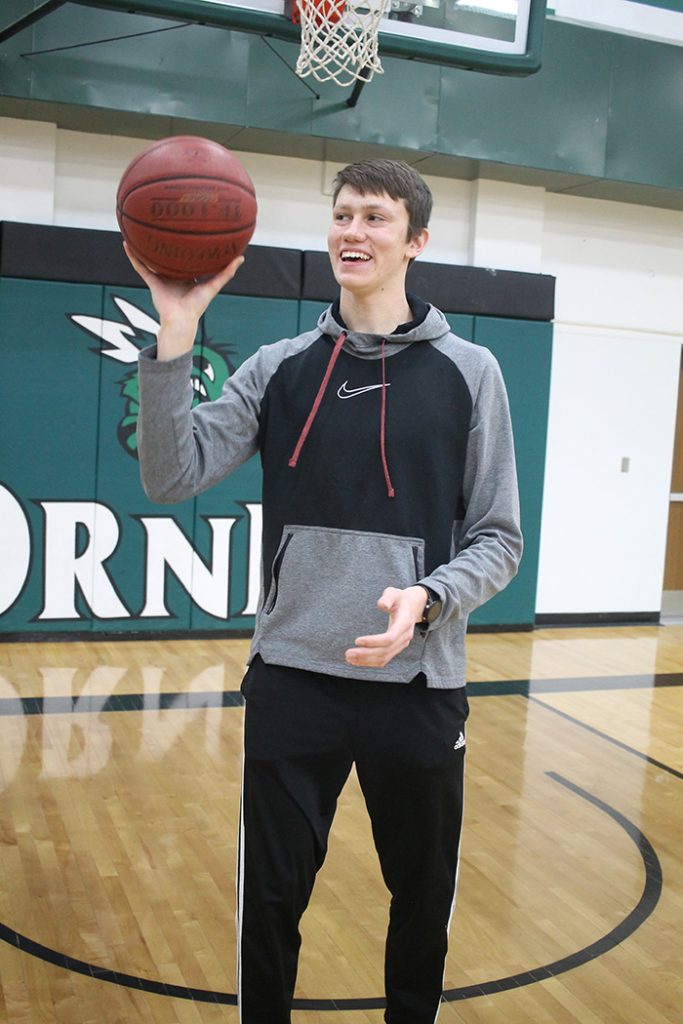 By Barbie Porter
Editor
Nathan Johannsen is the 6-foot, 5-inch force in the paint for the Hornets.
The son of Jeff and Summer Johannsen joined the basketball program with the Bumblebees, which is geared toward teaching youngsters the fundamentals of the sport.
"I remember wanting to play basketball, because my dad played it in high school," he said. "But, it wasn't until about fourth grade that I gained appreciation for the sport. That was the year we started competing and playing games."
He added, by then getting the ball in the basket seemed more attainable as he'd had a few years of practice.
While Johannsen is 6-foot, 5-inches tall now, there was a time when he felt like the short guy on the court. He recalled in sixth grade his classmates seemed to sprout.
"I didn't hit my growth spurt until my freshman year," he said. "I remember coming back to school and suddenly being taller than most."
It was his freshman year that Johannsen also began dressing for varsity. His time on the court was limited and aimed at providing him experience playing at the fast-paced and intense varsity level. Practice can provide confidence in one's athletic ability, but guidance offered from skilled teammates can help an athlete grow by leaps and bounds. Luckily, Johannsen had two such players he admired.
"Reed Eckert and Broden Fleisher, I always looked up to them because they seemed to play ahead of the curve," he said.
It was Johannsen's junior year that he began seeing solid minutes on the court and was the first man to sub in when a starter needed a break. This year, he earned a starting spot as the team's center.
"I've tried post and in junior high was a wing," he said. "I prefer center now."
Johnannsen explained a few years back he lacked the aggressive tenacity that is required for action often seen in the paint, such as securing rebounds, taking charges and fighting for jump balls.
"I still have to work on being more aggressive," he said. "Basketball at the varsity level moves at a fast speed and you have to play at a higher level."
His teammates helped him ignite his inner warrior when on the court, and improve his game overall.
"They helped me become a much better player. My rebound stats improved, my confidence improved and seeing when I had a good shot improved."

Nathan Johannsen
Becoming a better athlete is the name of the game in the sports world, the Hornet culture adds an element that focuses on becoming a better human being. Johannsen said his coach, Ryan Vigen, taught him to always leave "it" better than he found "it." It, he explained, can be anything from a locker room to a friendship.
After high school, Johannsen plans to attend the University of Wisconsin Eau Claire where he hopes to compete in track for the D-III school and decide between a career in nursing or one in business.