Karger enjoying last year in competitive sports
News | Published on February 15, 2022 at 5:14pm EST | Author: Chad Koenen
0
Senior provides points, leadership to team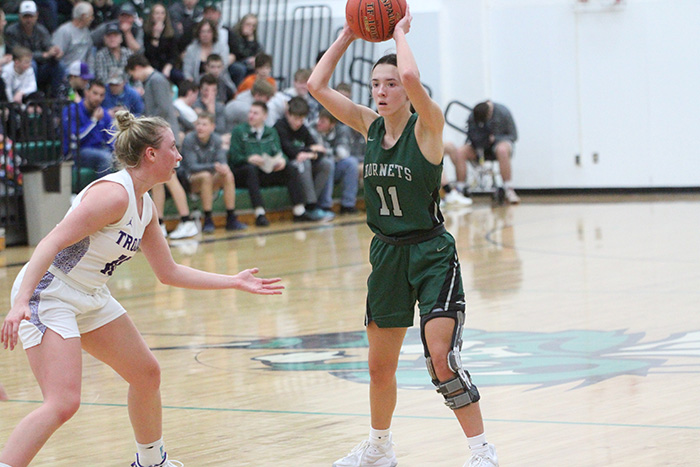 By Barbie Porter
Editor
Kiley Karger knows this will be her last year playing competitive basketball.
The Hornet senior has recovered from two ACL tears, one in seventh grade with a second tear in eighth grade.
"The first time was more difficult to recover from because it was a new experience," she said. "The second time was easier because I knew what to expect and what I needed to do."
Karger is hoping no injuries pop up duringher senior year as she looks forward to completing the season on the hardwood before focusing on softball. She also played volleyball this past fall.
The fond memories basketball has provided the daughter of Terry and Julie Karger date back years, but one important moment happened when she and some of her friends were asked to play against older cagers. She was in fifth grade the first time that honor happened. While there can be a big jump in skill level from middle school to junior high, Karger said the older students were always helping the younger students, often offering insight on how to improve their abilities. She also learned by watching other's and learning from their mistakes.
Karger thought back to those youthful years when asked if her younger self would be impressed with about her today? She quickly noted the increased confidence on the court. She recalled in her early years shooting was a challenge, but with much practice her ability to drain jumpers and threes in the versatile wing position.
The wing is considered a shooting guard/small forward, as the player offers both attributes on the court and swings between the positions.
Karger said her confidence with her shooting abilities really took root as a sophomore. All those missed shots and hours chasing air balls paid off as the net began to snap as the ball dropped through it.
Karger tried different positions on the court. She noted the point guard required exceptional ball handling skills and those in the trenches of the post need to have height and tenacity to dominate in the paint. Her skills were best showcased on the wing, which requires a shooter's eye and fast feet.
"At the wing you are trying to always get open; there is no standing still," she said.
Karger's ability to get open and sink shots helps the team when the clock is running, and her improved ability to be a leader is a guiding presence for her team in a game and during practice. While the point factor came to her through practice, the leadership skills were a natural progression as she moved up the ranks in the basketball program lineage. There has been a long linage of strong leaders in the Frazee Hornets history, and observing those skills was a great way to learn how to be one when her senior year arrived.
Being a leader doesn't mean learning ends. Karger shared her teammates continually teach her, from instilling a never give up mentality, to improving court awareness. As her teammates improve her game on the court, she noted Head Coach Jason Reierson has offered guidance for life.
"Reierson reminds me this is not the end; there is more to life after high school basketball," she said. "That, and not to let setbacks define me, but to use them to help me through adversity."
Karger is not sure where she is heading after graduation. She does have an affinity for earth science and may consider pursuing a career as a registered nurse.
"I've thought about being a travel nurse, " she said.