Vergas to seek approval for diagonal parking
News | Published on February 15, 2022 at 5:28pm EST | Author: Chad Koenen
0
Change would be to First Ave.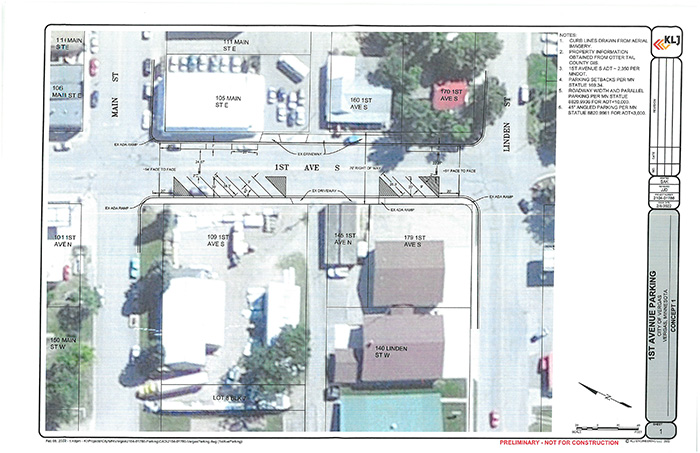 By Barbie Porter
Editor
There may be diagonal parking in parts of downtown Vergas, if Otter Tail County approves the proposed plan.
The Vergas City Council reviewed a drawing by its engineering firm, KLJ, which showed 10 diagonal parking pads along First Avenue South abutting the sidewalk near Franklin Fence and the C-D-H-Vergas Fire Department.
Currently, parallel parking on the street allows six parking spots, which means there would be an additional four spots on the south side of the street.
Parallel parking would still be offered on the north side (which is closest to the new commercial building that will offer businesses and apartments).
Vergas City Clerk Julie Lammers asked engineer Scott Kolbinger if the curb or sidewalk would need to be removed to allow adequate space for the diagonal parking spots.
Kolbinger said the aerial review indicated the parking spots would fit without modifications to the curb or sidewalk. He added, it would be a tight fit, but the plan does fit state requirements.
The city council approved a resolution to work with the county to bring diagonal parking to Vergas.