Cottrell brings calm leadership to team
NewsSocials | Published on February 23, 2022 at 5:44pm EST | Author: Chad Koenen
0
FHS senior heading to surgery after graduation
By Barbie Porter
Editor
Ian Cottrell's heart needs attention. A while back, the Frazee High School senior was running and started to black out.
When the school trainer gave him a look over and discovered Cottrell's heart was racing at 240 bpm. To give a comparison, runners his age hit about 160 bpm while running.
A trip to the emergency room followed the discovery and Cottrell learned he has supraventricular tachycardia (SVT). He explained SVT means he has a faster than normal heart rate beginning above the heart's two lower chambers. It develops when the normal electrical impulses of the heart are disrupted.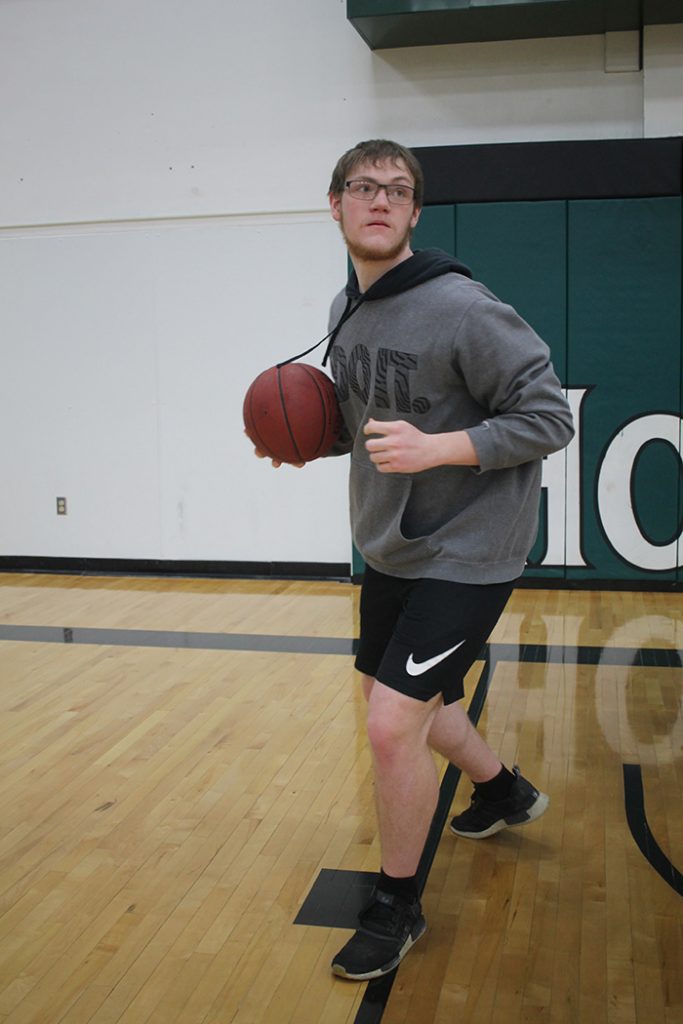 There may be symptoms like heart palpitations, or there may be no symptoms at all. Luckily, for Cottrell, there were symptoms as it made him aware that a potentially life saving surgery will be needed.
After speaking to a Mayo Clinic doctor he learned the surgery needed affords a 95 percent success rate in correcting the problem and providing the patient with a normal life.
"It's a same day surgery," he said. "They will go through my leg and into my heart."
In a procedure called a catheter ablation, the doctor inserts flexible tubes through the arteries. Sensors on the tip of the catheter use heat or cold energy to create tiny scars in the heart to block abnormal electrical signals and restore a normal heartbeat.
Until the surgery, Cottrell is equipped with actions he can take if his heart starts racing, beyond stopping the activity. Something as simple as holding his breath and straining, dunking his face in ice water or coughing can help. The actions affect the nervous system, which controls the heartbeat. There are also medications that can assist.
His plan is to have the surgery this summer and continue to monitor his heart rate through the remaining sports seasons.
Cottrell recalls memorable moments
The son of Megan Cottrell shifts between the power forward position and center in basketball, both of which require sure-footed play and confidence. When one initially meets the grandson of Steve and Jeri Cottrell, his quiet demeanor may make one question if he has the tenacity to be the player pulling down rebounds and the will get jump in a battle for the possession of a ball.
Cottrell joined the varsity squad his sophomore year. His first game on the fast-paced, high stakes court was a bit of a blur. He recalled they were ahead and there was between 5-7 minutes left on the clock. The coach sent in the junior varsity to gain experience, but that is all he remembers of those heart pounding moments.
He recalled moving from junior varsity to varsity was a wake up call for him. While he may have been a strong player in the lower league, at the top of the game the players were stronger, faster and the defense was much more difficult to bust through. Instead of fading into fear of not being able to play at the varsity level, Cottrell said the experience motivated him.
"I became focused on getting better and improving my skill level," he said. "There were a couple of bad games in a row. The coach told me not to be so hard on myself and to let the mistakes go."
He added head coach Ryan Vigen is also impressive in practices, as he has them thoroughly planned to give his players optimal opportunity to improve.
Cottrell listened to his leader, soaked up the knowledge and began capitalizing on rebound opportunities and the cold snap of his shooting game broke. 
"I do remember making my first three pointer on varsity," he said. "We played at a college and I banked it in off the glass."
With experience on the hardwood, Cottrell has focused on continuing to improve his skill set. The drive from within has made him a defensive player to contend with in the paint. In fact, when he thinks of his favorite memory of his basketball career, he recalled a game where he played such strong defense he was able to continuously help his team by capturing rebounds so they could snap the net.
"Another favorite moment was in eighth grade in a game against Pequot Lakes," he said. "There was a one point overtime win. That was fun. So was the game this year against Breckenridge with overtime wins."