Flynn keeps focused on improving throughout season
News | Published on February 23, 2022 at 5:23pm EST | Author: Chad Koenen
0
Senior Hornet is heading  to NDSU in the fall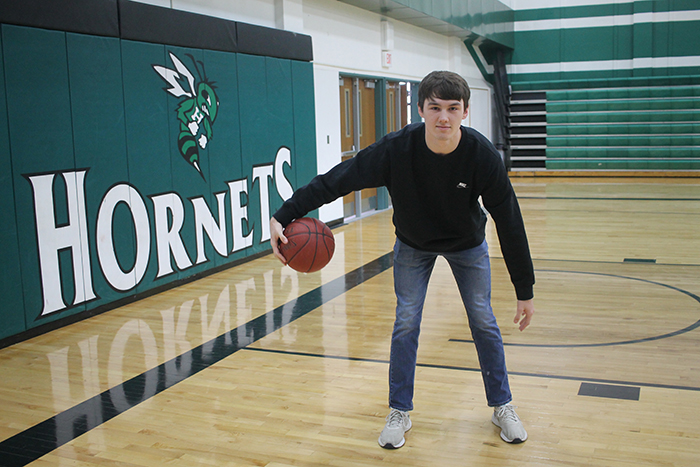 By Barbie Porter
Editor
George Flynn has been dressing for the varsity basketball team since the eighth grade. Now in his senior year, the son of Kevin and Kelly Flynn is taking in all the moments being a member of the team provides.
"I know I will miss my teammates, the bus rides, team meals and the close games," he said.
The shooting guard on the Hornets basketball team has had the opportunity to try various positions on the court. He has played post, forward and shooting guard. Luckily for him, his favorite job as shooting guard was exactly what his team needed.
"I like the versatility of it," he said.
Shooting guards are known for having a quick release when an open shot presents itself, as well as crisp passes. Flynn acknowledged his ball handling skills are below his expectations, and he has been focusing on improving that aspect of his game this year. The continuous practice has shown improvement, he added. Being a better ball handler has also reduced the number of times opponents were able to steal the ball from him.
Flynn is not a man of singular focus. While improving his offensive strategy, he also worked on defense, specifically becoming a known ball thief.
"Over the years I've learned to anticipate and that helps when stealing the ball," he said.
While gains have been made toward his goals, Flynn is not satisfied as he set the bar for himself much higher.
"The goals, I don't think are going great, but that keeps me motivated," he said.
Flynn added his teammates often inspire him to keep reaching for his goals. He noted teammate Nathan Johannsen is a prime example of what it means to work hard every day, every practice and to take every opportunity to become a better player and person. Flynn added head coach Ryan Vigen is also a great example of that.
"He always tells us to play with poise," Flynn said, noting a level head during a heated competition can be a challenge and having that reminder and expectation from the coach has helped.
Flynn, who has also played for the football team, looks forward to springs sports. However, the future North Dakota State University student doesn't know if he will be playing for the baseball team or joining track.