Hornets fall to Cowboys 69-47 in HOL
Sports | Published on February 23, 2022 at 4:52pm EST | Author: Chad Koenen
0
Frazee to wrap up regular season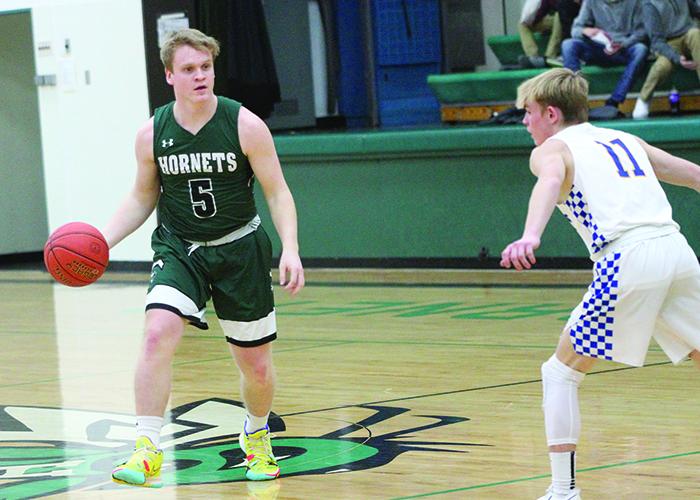 By Chad Koenen
Publisher
Frazee had one of its best shooting nights of the season, but couldn't overcome 28 turnovers in a 69-47 loss to Breckenridge on Thursday night.
The Hornets shot 47.4 percent from the field and held the Cowboys to under 39 percent shooting. The Hornets also hit six 3-pointers and had 14 assists on just 18 made shots from the field. Frazee also finished with 31 rebounds and blocked six shots on the defensive end of the court.
The big difference was turnovers as the Hornets had 28 turnovers, compared to just 13 turnovers for Breckenridge.
George Flynn led the charge offensively for the Hornets as the senior finished with 15 points off of just 6-8 shooting from the floor. He also had 4 rebounds and 3 assists. Dylan Selly also reached double figures as he went a perfect 4-4 from behind the 3-point line to finish with 12 points.
Nathan Johannsen just missed out in reaching double figures as the senior finished with 8 points and 10 rebounds. Mark Jaroszewski scored 4 points, while Asher Blaine and Carter Sonnenberg each scored 3 points and Kale Ovsak rounded out the scoring with 2 points.
In other action last week, the Hornets fell to Dilworth-Glyndon-Felton by a score of 70-42 on Tuesday night and 84-46 to Hawley on Saturday.
The Hornets, who are 3-18 on the season, have just three more games remaining on their schedule this season. The Hornets were scheduled to host Park Christian in non-conference action on Monday, but that game was postponed due to inclement weather. On Thursday night they will travel to Menahga. They will wrap up their regular season next Tuesday in a non-conference game against Wadena-Deer Creek.