Turcotte named president of Frazee Sportsmans Club
News | Published on February 23, 2022 at 5:16pm EST | Author: Chad Koenen
0
Auction set for March 12, donations sought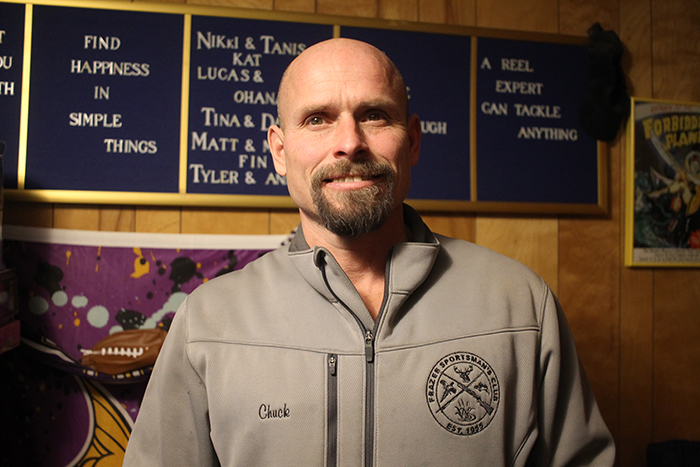 By Barbie Porter
Editor
Chuck Turcotte took the helm of the Frazee Sportsmans Club as its newly elected president.
The avid outdoors man enjoys a good hunt, be it deer, grouse or other game. He also enjoys time on the lake, be it frozen or not, the fish are always waiting.
"I don't eat fish," he said. "But, my kids do, so I have the fun of catching them, cleaning them and cooking them."
Being in a club full of people who appreciate outdoor activities has provided Turcotte the opportunity to share those experience with new (and old) friends. The Army and National Guard veteran joined the Sportsmans Club several years ago.
"I saw them doing stuff in the community, then heard they wanted new, younger members to join," he recalled adding the group still has the same welcoming, friendly atmosphere to all..
Turcotte said while there are monthly meetings, they are an active group. When an idea for an event is pitched, members step up to share experiences that may help when organizing the event, as well as volunteer time to help make it successful.
The group also has several staple events and activities, such as the recent fishing derby on Eagle Lake, or the spring ditch clean up.
"We also donate to community organizations, like the trap team at the school and robotics, or the fire department and Neighbor to Neighbor. If there is a group or event that benefits the community, we want to support it."

Chuck Turcotte
The club has more than 50 members. Some are very active, others are part of the club and pay the nominal dues to support the group. Whatever level of involvement one is comfortable with, Turcotte invites all to join or attend a meeting before deciding.
"We meet on the fourth Monday of the month at 6:30 p.m. and usually switch the meeting place between the Frazee VFW and the Frazee Liquor Store," he said, adding there is a special meeting planned for Wednesday, Feb. 23 at the VFW and all are welcome.
Annual live auction set for March 12
The Frazee Sportmans Club is also well known for its annual live auction. The event is set for March 12 at the Frazee Event Center. On the auction block will be plenty of guns and a variety of other items. Anyone interested in donating an item can reach out to Turcotte (218-850-4789) or any club member.
He added there will also be raffles specific for veterans, so if an item is donated for a veteran raffle one should state that when donating.
"When a veteran buys a raffle ticket we mark the ticket, so they are in the regular drawing, but also in a drawing for just veterans," Turcotte explained.
The live auction will be broadcast over Facebook and can be found by searching for "Frazee Sportsmans Club."
Community, outdoor connection is important to Turcotte
Turcotte was born in Perham and attended grades K-1 in the Frazee-Vergas School District, before moving south. He returned to Hornet country as a junior in high school, and found his place with old friends from his youth.
His father, who passed away at 53, and uncles were known wrestlers for the Hornets. He decided to join the sport when he returned to Frazee. He found it fed his competitive drive and provided structure. Turcotte also found structure in the military, which he joined while in high school.
"Don Trieglaff was a good recruiter," he said. "Being in the military taught me discipline and how to be around a lot of different people. I have no regrets about joining."
The father of four daughters and two grandchildren added the Frazee Sportsmans Club also has events that help introduce kids to the outdoors, including gun safety training.