Arvig rolls out internet-based phone system
News | Published on March 1, 2022 at 4:48pm EST | Author: Chad Koenen
0
Ten digit dialing now required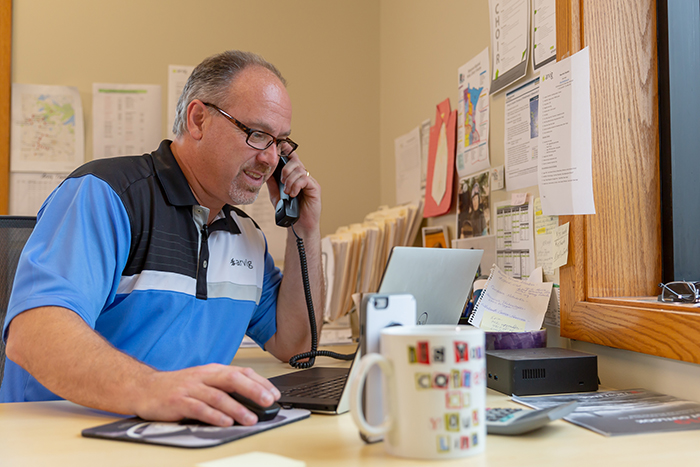 By Barbie Porter
Editor
Arvig is consistently at the forefront of changing technology, and just rolled out a new wi-fi manager for residential users.
Arvig recognizes the Internet can be a disruption during those moments defined as family time. Being the go-to Internet provider in the lake area and beyond, Arvig created a way to provide customers with uninterrupted family bonding moments..
Lisa Greene, director of marketing and publications for Arvig, said an application just became available that can regulate time on-line and allow parents to see who is on-line and when.
"Sometimes you want a peaceful dinner with no messengers pinging," Greene said. "With the app you can turn it off for a half hour or so. It also allows you to set up guest wi-fi passwords."
The cost for the addition of the app is minimal, Greene said. It may be $10 or so, it depends on the router you have in the home.
She added the project has been in the works for a few years.
Commercial phone system provides options to customer
Arvig unveiled a new commercial phone system that essentially places a mini-network at the office that provides options that can enhance the experience of the customer and employee.
Loren Urbach, hosted PBX manager for Arvig, explain the new option uses the Internet for phone service. That means a business can transfer calls to various desks, put a customer on hold, customize greetings and will have a phone that can travel with an employee. 
Urbach explained the phone number follows the phone, whereas before if someone moved offices changing the number was more labor intensive. Having a mobile number also allows an employee to bring the phone on the road and remain connected to the office.
For example, Urbach noted he was at a conference in Colorado. When customers called him, they still called the regular work number.
"As far as the customer knows I am sitting in the office," he said, adding when snow days happen the option is handy to prevent missed calls and potential revenue. "There are a lot of other features, too. You can see when someone else is on the phone even if you can't see them."
Whether a business has several employees or 900 lie Arvig, the new phone system capabilities may be worth considering. When compared to the old phone line system, the options provided by PBX may be cost prohibitive for some businesses.
"With the old system we have to be on-site for software updates or for tech service calls, say if a customer didn't want to configure the phones or wanted a phone line moved," he said.
All of those alterations can be done simply with the PBX system, which is a hosted by Arvig. Urbach added the new system requires minimal equipment on the job site, which means lower start up costs, and more options.
To those who are leery of Internet interruptions, Urbach explained there are safety nets in place if there is a power outage. For instance, a battery back-up can be installed that will act as a generator until the power returns. If the Internet it self is down, customers can leave a message or call forward to a cell phone or landline can be set up. (Training is provided to learn about all new service options.)
When comparing costs of the new system and the old one, Urbach said it depends on the needs of a business.
"Some switch and save money," he said.
Businesses interested in the new system can email phone systems@arvig.com or call 218-346-8014 for more information.
Ten digit dialing now required on landlines
Seven digit dialing on a landline is no longer an option in the Frazee area. Arvig now requires the area code to be used before the seven digits.
Mark Schmidt, central office manager for Arvig, explained the change all came about when the National Suicide Hotline was given a three digit number, much like 911 or 511. The FCC (Federal Communication Commission approved the three digit change in 2020 with the implementation of the change taking place in 2022.
Schmidt said Arvig got to work when the decision was made to ensure there would be no disruption of service for its customers with 218 or 952 area codes. He added those area codes had towns that used the prefix 988 to start the seven digit number, much like Frazee uses 334 or Perham uses 346. Using the area code prior to the prefix removes the concern of accidentally calling the suicide hotline.
Schmidt said the transition on Arvig's side took about two weeks to set up and implement 10-digit dialing on landlines.
"After it was set up we literally flipped a switch," he said.
Those who were unaware of the switch would receive a message explaining the area code is now needed before the seven digit number is dialed. That does not mean there is a long distance charge.