Reierson enjoys senior year with dad as head coach
NewsSocials | Published on March 1, 2022 at 4:42pm EST | Author: chadkoenen
0
Being in sports improves leadership skills, confidence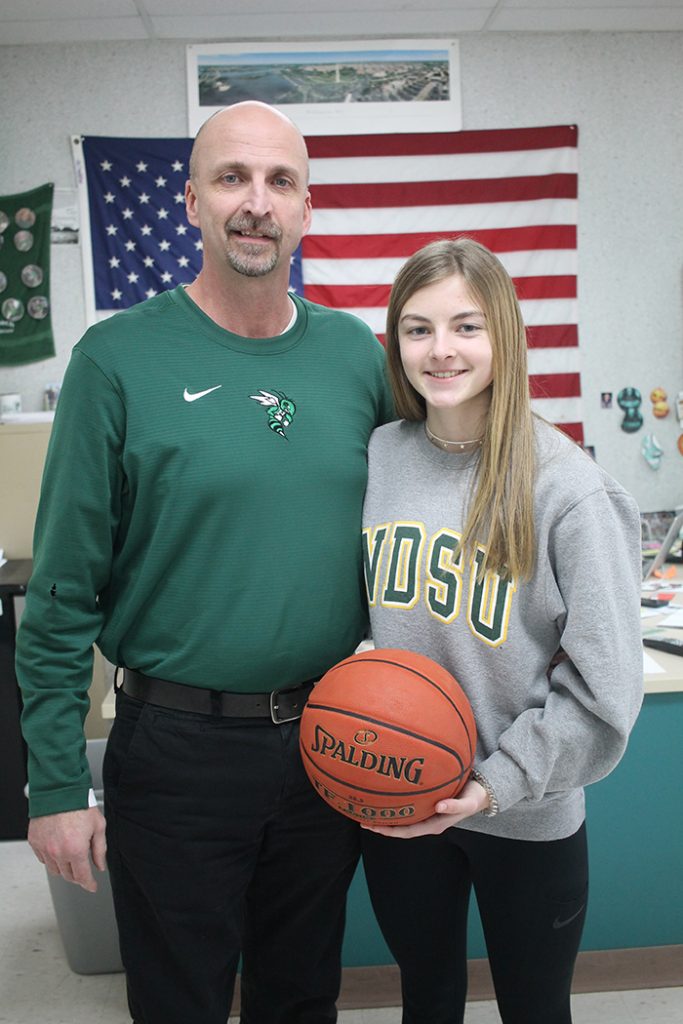 By Barbie Porter
Editor
The Annika Reierson is having a extra special senior year as a member of the varsity basketball team. She is sharing her last season on the hardwood as a Hornet with her father (and head coach) Jason Reierson.
"My dad taught me not to dwell on the little things, in basketball or in life," she said. "When you dwell on those little things they can drag you down."
Under the guidance of her father and the coaches before him, Reierson also learned what it meant to be a leader. While moral values are taught by coaches, the older players on the team showed the impressionable Hornets how leaders act. As Reierson stepped into the leadership role as a senior, she knew what to do.
"To me, being a leader means helping others, even with the little things," she said. "We should all push each other to be our best, in practice and in school."
Since fourth grade Reierson has been given the duties of being a point guard. The position is a lot like that of a quarterback in football. All the plays the coaches created must be categorized and easily referenced on a moment's notice. They must be exceptional ball handlers and passers with great vision of all players moving about the court while pressing the ability to sink a shot.
Number five for the Hornets has handled most of the point guard duties with poise and execution her senior year. Getting to the top of her game began with addressing her flaws. She noted one flaw that seemed to glare at her was her quiet nature. She explained a point guard needs to be vocal, whether they are calling plays or directing a player. With time and confidence her timid voice strengthened.
"I've been starting for two years now and it was more of a natural progression," Reierson said.
While she sees continual gain in all aspects of her game with the commitment and hard work her teammates and coach demand, there are doubts that rise on occasion. Those doubts create frustration. Reierson noted those emotions can alter her play and result in
an off-game. In those moments, she said her coach or assistant coach get in her ear.
"They remind me not to dwell on a mistake," she said. "That lesson, to move on, is something I use in life, too."
She also finds inspiration from younger players on the team, who seem to focus on the positives and take time to point them out. Messages of support lift the team up, Reierson said.
Had Reierson forgone sports, she doubts her leadership skills would be as sharp, and her ability to trust others would be less. She explained being part of a team means you trust teammates will put in the work necessary to help the team find success.