The Lavish Loons welcomes The Lavish Loonette
News | Published on March 1, 2022 at 5:05pm EST | Author: Chad Koenen
0
Vergas downtown continues to flourish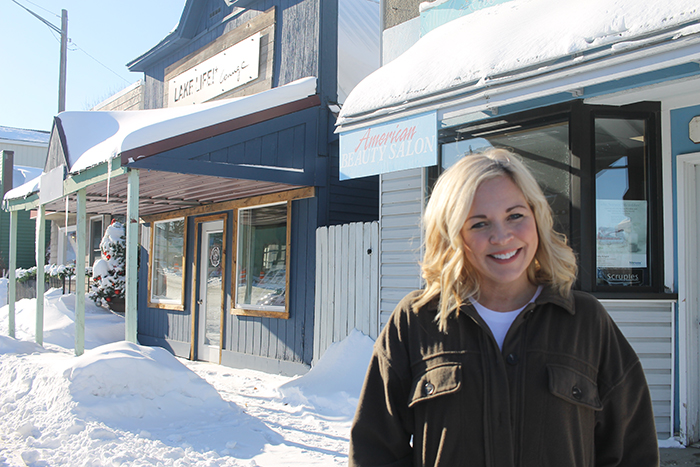 By Barbie Porter
Editor
The Lavish Loon is set to have a second store in Vergas come summer.  ¶  Owner Sarah Wacker said the current Lavish Loon will be moved to a new location on Main Street and the space transformed into The Lavish Loonette.  ¶  She explained a loonette is another word for a baby loon, and the store is smaller than the one she is in the process of purchasing. The Lavish Loonette will be more of a beach shop and tourist destination. People will find lake items, novelty items, hats, souvenirs and be that "go-to" place when arriving for the lake season, visiting Vergas or before closing the cabin for the season.
"Keeping the current space is important to me," she said. "It makes me happy. I'm very satisfied with that store, but I was able to own my own building in Vergas. It made sense to put myself on the map more permanently."
With Altona Square (the new commercial and residential building replacing the footprint where the Goodman SuperMarket stood) and the Summer's Construction building additions downtown, gave Wacker confidence the city's commerce attractions will continue to flourish. 
"I really think, when you see how busy Vergas is and has been, that we will continue to see the town grow by leaps and bounds," she said. "Even in the winter, when I expected little to no traffic, we've had shoppers—minus the weekly snowstorm day."
Wacker emphasized the current store location will remain, just be given a new name. Meanwhile, The Lavish Loon will be moved to a new location that is yet to be unveiled. She said minimal remodeling and prep to make the new location into a retail store will be needed. She will continue to carry fashionable clothing along with comfortable lake-wear staples.
"I'm doing exactly what I was doing one year ago, at the same time," Wacker said, adding the prep work necessary to open a shop was still fresh in her mind. "This is chapter two, and it is on the same time line."
Her first year in business as The Lavish Loon was a success. So much so, that she hired two people since opening last April. 
"I've been unbelievably blessed with the Vergas community," she said. "It is absolutely outstanding, from the other businesses to the community club to the locals and visitors. I always knew there was that support, but when you experience it, it is an amazing feeling."