Good insurance agents enjoy window shopping
News | Published on March 11, 2022 at 2:45pm EST | Author: Chad Koenen
0
Frazee High School alum brings knowledge to ag coverage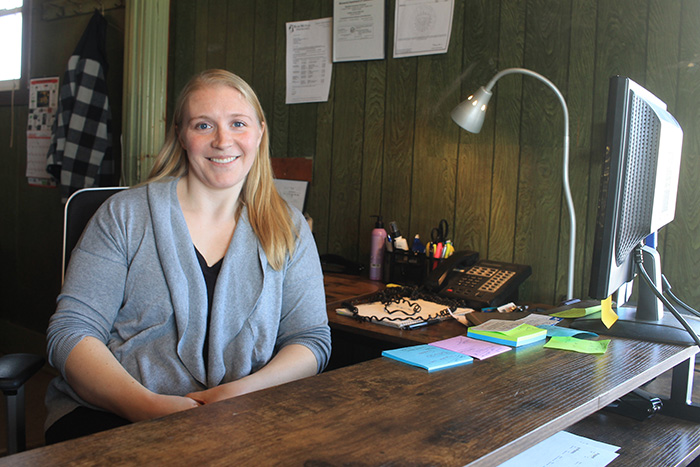 By Barbie Porter
Editor
Laura Keller has returned to her hometown and joined the Solberg Insurance Agency in Frazee.
The daughter of Larry and Sharon Luckason is licensed and is glad to be working with an independent company.
After graduating from Frazee High School in 2007, Keller earned a master's degree in business.
Years of working in retail management taught her how to provide top-notch customer service to build a reputable company that draws shoppers. Those lessons she learned in business management carried over seamlessly to her next career as an insurance agent.
Upon returning to the area to be closer to family, the Shell Lake resident approached Brad Solberg, owner of Solberg Insurance Agency. She inquired about renting an office in his 108 East Main Avenue building. After chatting with him and seeing the wealth of knowledge and experience he brings to the insurance world, Keller shifted gears.
"I realized it may be better to go a different route. I asked if he needed another person in the office."

Laura Keller
Keller was offered a position with Solberg Insurance Agency. While licensed for the typical items like a vehicle, house or health, she also gained insurance knowledge for speciality items, including farms.
The long hours and hard work required to be a farmer is something Keller knows about. She grew up on a farm. Having those experiences and insight helps when assisting a farmer make sure the expensive equipment and livelihood are protected.
"We cover it all," Keller said. "Most people don't love digging into insurance and they aren't aware of their coverage or the options they have. I find that fun. It's like window shopping."
Keller explained as an agent she will get a list of needs and wants from her client. Then she spends hours reviewing different policies to find the one that best suits her client's needs, at the best price.
"I really want to help people," she said. "Because we are independent we are not tied to one policy provider."
Since returning to her hometown, Keller has also enjoyed running into many familiar faces. While living in Iowa with her husband and three children, the trips home focused on family time. Now, she is able to reconnect with old friends and mentors that made Frazee a place she wanted to call home as an adult. 
To connect with Keller, call the Solberg Insurance Agency at (218) 334-2271 or email info@solberginsurance.com.