That Midwestern Mom makes a splash
News | Published on March 11, 2022 at 2:43pm EST | Author: Chad Koenen
0
Estenson raises $7,000 for Boys, Girls Club of Detroit Lakes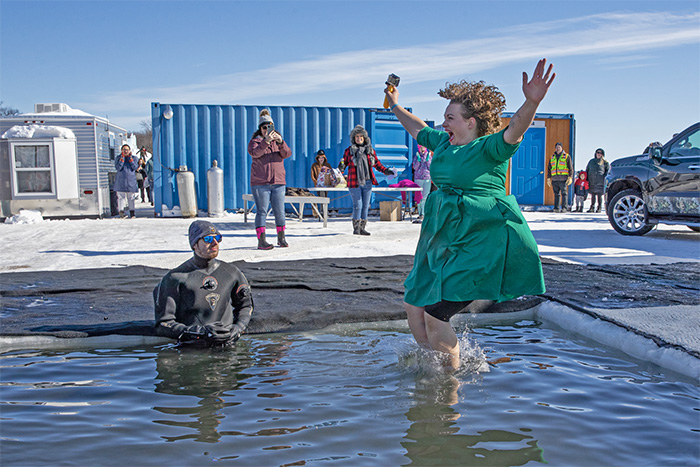 By Barbie Porter
Editor
That Midwestern Mom is making a splash on social media platforms. In true Midwest fashion, she is using her newfound fame to do good deeds.
In about 10 days she raised $7,000 for the Boys and Girls Club of Detroit Lakes.
The fun all started when That Midwestern Mom, known as Amber Estenson to locals, hosted a hot dish competition during Polar Fest. There, it was suggested she jump into the ice-cold Detroit Lake as part of the annual Polar Plunge fundraiser. The proceeds go to the Boys and Girls Club in Detroit Lakes.
The club provided meals for families during the pandemic and offers a safe, educational environment for kids after the school day concludes.
While Estenson wholeheartedly appreciates and supports the organization, jumping into ice water was not on her to-do list. However, the deep respect and appreciation she has for the Boys and Girls Club was enough of an arm twist for her to take the plunge.
"Now I have a platform," she said, adding the plunge was a great opportunity to see if her subscribers would donate for the good cause. They didn't disappoint. That Midwestern Mom is appreciative of the generosity shown.
Plans are in the works for next year's jump at the Polar Plunge with hopes of setting a new personal record for fundraising for the Boys and Girls Club of Detroit Lakes.
"Lakeshirts raised $10,000 and my goal is to beat them next year," Estenson said, adding she looks forward to the fun of fundraising.
She also hopes to use her platform to shine the spotlight on the lakes area communities, events and more.
That Midwestern Mom becomes a commodity
That Midwestern Mom's rise to fame started around St. Patrick's Day. The Frazee resident started with 10 followers. Something about the hair, accent or salads unique to the Northern Star state struck a chord with the populace.
After a video that collected 30,000 plus views, her followers have been on an upward trend since. She has more than 600,000 followers on Tik Tok and more on Facebook  and Instagram.
Estenson started That Midwestern Mom skits for fun. While still fun, there is more production and planning. She explained the hair often referred to as the Rose Nylund due by fans, takes hours. Putting on the make-up, ironing the dress and traveling for appearances all keep her busy. And, the music teacher and professionally trained opera singer, also spends hours creating content for her social media channels.
Estenson may make her videos full of Midwest flair, humor and good eats look easy, but it likely took dozens of takes and hours of hard work.
"It has all been a learning process," she said, noting she started by placing her phone in a cupboard and recording a short video. "Now, I have a light and a gooseneck stand."