Air exchange system improves air quality 
News | Published on March 16, 2022 at 5:27pm EDT | Author: Chad Koenen
0
System can be added to furnace
By Barbie Porter
Editor
Modern homes often come with an air exchange system, but the older abodes can be easily updated with the feature that improves air quality.
Esser Plumbing and Heating Service Tech and manager Jarid Henricks said air exchange systems can be installed on an existing furnace as long as they have access to the outside wall. Prices vary depending on what unit is purchased, but air exchange systems start as low as $2,500. 
The purchase is a long-term investment and are part of the heating, ventilation and air conditioning systems in many modern homes. Henricks said some cities have a building code that requires new structures to include an air exchange system. The reason is all about safety for the home's occupants. New homes are not as drafty as older ones. While having a tightly put together home may save on energy costs, it does create a health risk.
"Indoor air quality is typically poor," he said. When one takes into account chemicals in carpet, furniture and other typical household items that add pollutants to the air, the air quality diminishes.
An air exchange system circulates indoor air out of the house and brings in outside air. This process is done through a simple system that is tied into the furnace and ventilation system.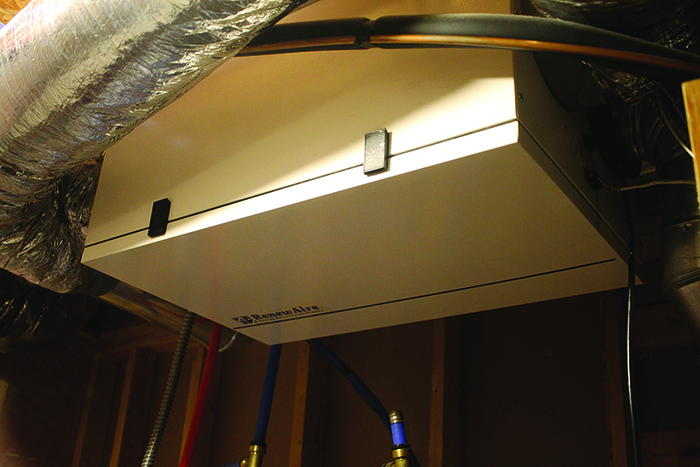 Henricks noted while having the windows open in the warmer months is another option for improving air quality in the home, during the cold months that is not feasible. That is when the air exchange system proves its worth. He added the system draws in warmer air from the furnace to mix with the colder outside air, so the house is not refreshed with air that is in sub-zero temperatures.
The air exchange system is also a great way to control high humidity in the house during winter months. Uncontrolled humidity indoors can cause mildew, mold, bad odors and even damage to paint or furniture.
Henricks said, during the winter, when customers notice moisture on the windows it is a good time to turn up the air exchange to draw dry air into the house.
"It is not a dehumidifier, but bringing in dry air helps reduce the moisture," he said, adding there are units that offer humidity controls.
Servicing air exchange systems are rare, as the main moving part is a motor. On average the motors last 20 years, he said.
The maintenance includes cleaning filters and making sure the outside damper is free of debris and not frozen shut in the winter.