Chill Report for March 14
News | Published on March 16, 2022 at 3:57pm EDT | Author: Chad Koenen
0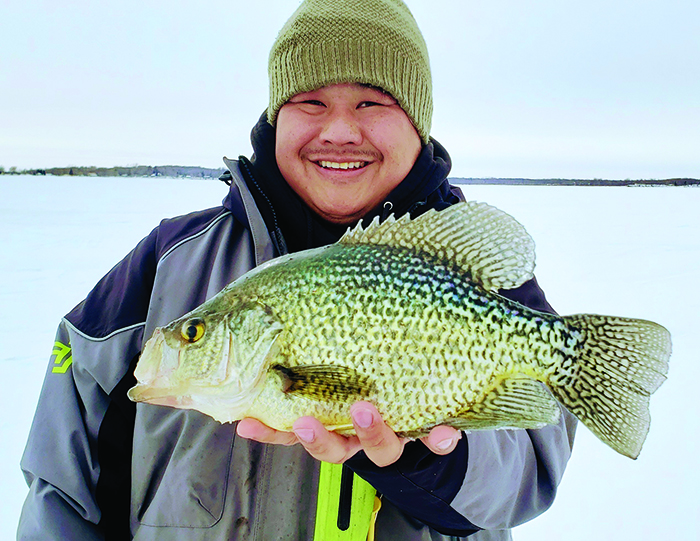 Chill Fishing Report
Cody Hill
What a weekend!  Saturday morning when I started the vehicle to go tullibee fishing it was reading 18 below and Sunday afternoon leaving the lake it was 28 above. Saturday morning, we started off by chasing tullibee and we marked a bunch of fish, but they just were not active and every single fish I marked was hugging tight to the bottom 10 feet of water. After a few hours of striking out I grabbed one of the guys in our group and took off to a hole to see if crappies were there by chance. Drilled a hole and the Livescope was lit up like a Christmas tree. I instantly missed a great bite, but a minute later caught a northern, and two minutes later we had a 12.5-inch crappie. I ran back and got the rest of the crew and we switched to crappies. 
We were targeting deeper holes near mainline shoreline flats/breaks. I wouldn't call them basins in this situation, but they were deeper holes with shallow water surrounding them. We fished this area the rest of Saturday picking up some nice crappies, gills and a few random tullibee mixed in the batch.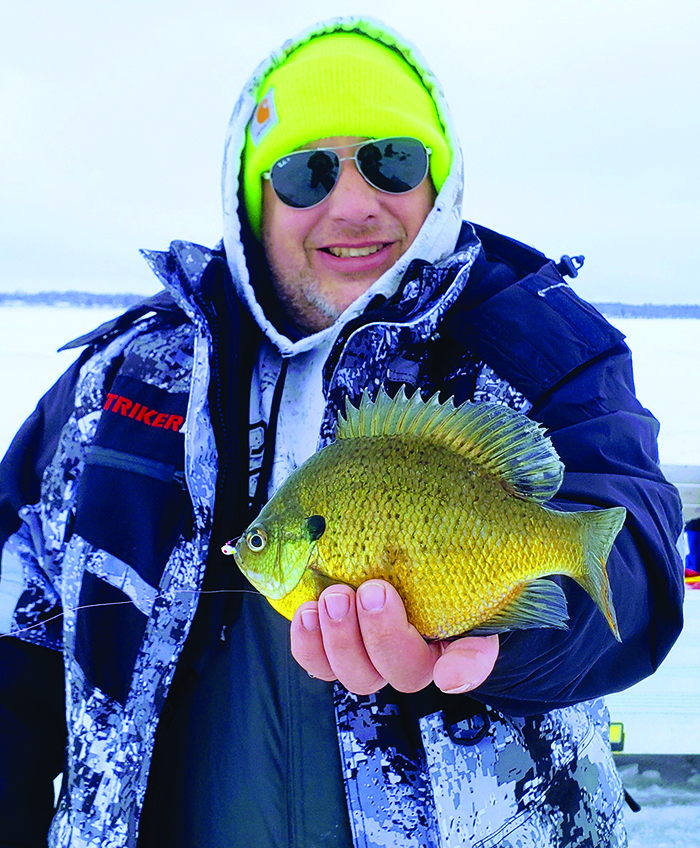 We ended up with more tullibee while crappie fishing than we did tullibee fishing, who would have thought that? Our big fish Saturday was a 14.3-inch crappie which the angler who caught it said is going on the wall.
Sunday, we had fresh snow on the ground, and it was warm, and I thought this is going to be a good day. We started where we ended the day before and fish were instantly down there so hopes were good. We had a lot smaller crew for Sunday, so I started jumping around trying to find fish and pattern a technique. My first drop I ended up with a very nice 12-inch plus crappie. After that the gills became so aggressive, they were pushing the crappies out of the area. The crappies on Sunday were very lethargic and would swim quickly up to your lure and just sit there until it would bite. They would bite so lightly we could barely feel or see the bites. When we did it was usually too late, and the fish was spitting the lure out.
We tried multiple spots covering lots of water trying to find active fish and when we would the sound of the auger would spook them. On Saturday you could drill on top of the fish, and they wouldn't move, but Sunday if you drilled on top of them, they were 50-plus feet away in seconds. At the end of the day Sunday, we were targeting 9-13 feet of water finding random fish but after we left friends went shallower and did better than we did out in the deeper basins chasing blue gills.
Catching fish is very important, but safety is the most important. This weekend I pulled out numerous vehicles because they were following old roads that were plowed out the weekend before. Permeant houses are off the ice, so most roads are being abandoned and those abandoned roads are filling in with snow quickly and unless you are 100 percent sure, I'd be hesitant trying to drive down old roads unprepared. Saturday alone I saw four vehicles stuck not counting the five I helped get free. The lakes have hard drifts which people are thinking is ice but the new snow we've received is having soft drifts also and people are getting hung up. We are forecasting warm weather soon and I'm afraid the snow is only going to get softer along with slush pockets. If people think they can go wherever they want, it's not going to end nicely for them.
Here is a recap of what worked! Tungsten jigs in size four mm, I think three mm would have worked better if wind wasn't so strong.
White with pink dots worked the best for color not saying other colors worked well but it was most dominate color.
Plastics Rippers or Wedges worked good with bubble gum, white and purple worked best for colors. Tipping with Waxies or Spikes helped chances to get finicky fish to bite.
Depth…we caught fish in 5-feet to 28-feet of water and we caught crappies in all depths. For the shallow bite find weeds and the fish will come in schools. Out deep, staying mobile and jumping around worked the best. Don't be afraid to move and jump holes.
Good Luck and Stay Safe!