Frazee falls to Pelican Rapids in section opener
Sports | Published on March 16, 2022 at 4:00pm EDT | Author: Chad Koenen
0
Hornets end season with record of 4-21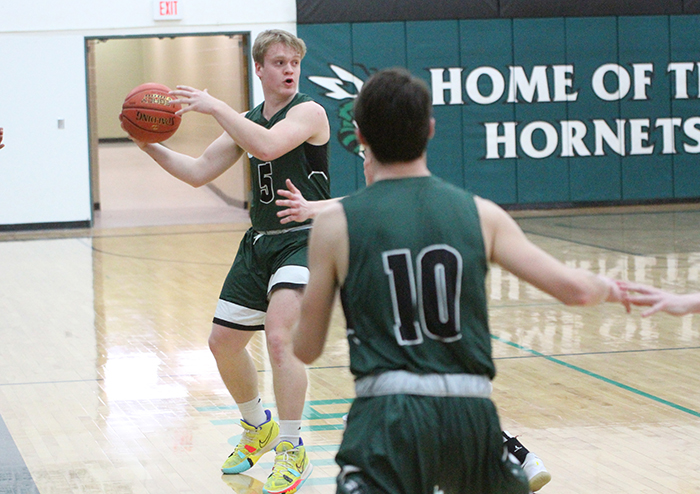 By Chad Koenen
Publisher
Frazee had it season come to an end on Thursday night as the Hornets fell to the Pelican Rapids Vikings by a score of 70-40.
The Hornets trailed 35-17 at halftime, but put together a solid second half as they scored 23 points in the final 18 minutes of action. However, it wasn't enough as the Vikings matched their first half total with another 35 points offensively.
As a team, the Hornets shot 37 percent from the field and turned 13 Pelican Rapids turnovers into 17 points. Pelican Rapids, who came into the game as the second seed in the section, shot 50 percent from the field and had 42 points in the paint.
Nathan Johannsen had a solid game offensively as the senior went 8-11 from the field to finish with 16 points. He also had 5 rebounds in the loss.
Asher Blaine narrowly missed joining Johannsen in double figures as he scored 9 points, while Dylan Selly scored 4 points, George Flynn and Adam Vigen each scored 3 points, Carter Sonnenberg and Mark Jaroszewski scored 2 points and Zach Longfors rounded out the scoring with 1 point.
The loss end the Hornets season with a record of 4-21.
The Section 8AA tournament will continue this week as top seeded Dilworth-Glyndon-Felton will take on fourth seeded Thief River Falls and second seeded Pelican Rapids will take on third seeded Perham. The section semi-finals will be held in Detroit Lakes on Tuesday and the section finals will be held on Friday at Detroit Lakes.