Frazee fire department receives local donation
News | Published on March 16, 2022 at 5:31pm EDT | Author: chadkoenen
0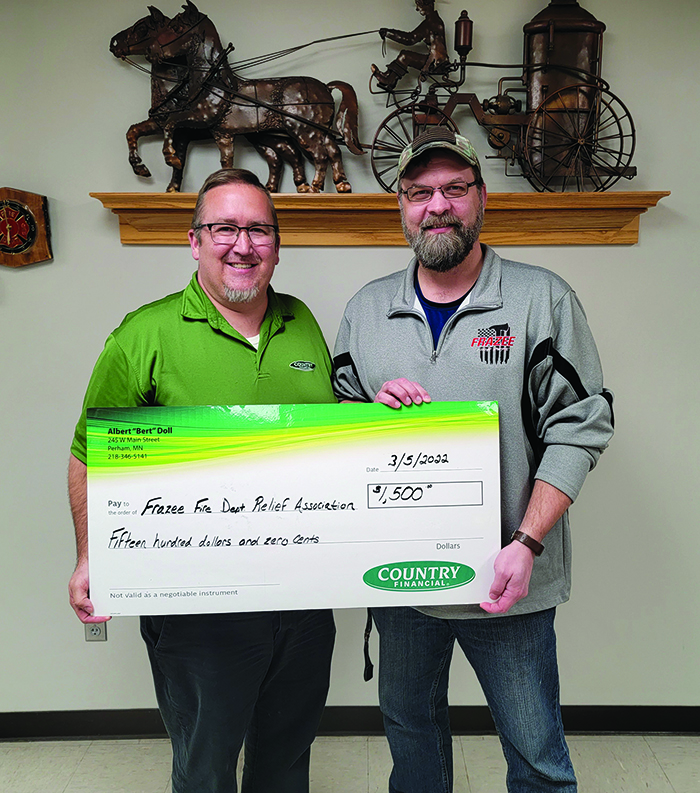 Country Financial Representative Albert Doll presents the Frazee Fire Department with a donation to help kick start the 14th Annual Fire Department Relief Association Auction fundraiser. The fundraiser is being held on April 23 at the Frazee Event Center from 5 -9 p.m. Doll presented a donation of $1,500 at the department's meeting on March 9. The donation will help purchase air bag lifting equipment, along with helping recruit and retain firefighters.
Doll has been a volunteer firefighter for 24 years for multiple fire departments and is currently a firefighter for the department.
"I understand the need for additional funding to help the communities in which I serve, and Country's Operation Helping Heroes program is a way to give back to our community in the most rewarding way," said Doll. "I believe all emergency responders are our heroes, and I support them in any way I can."
Country Financial donated $3 million in 2021 to organizations and programs that support first responders and active duty service members, supporting the company's vision to enrich lives in the communities we serve.
Country Financial is continuing the program in 2022 and expanding the opportunity to educators, to help financial representatives further support their local community. The Operation Helping Heroes program was created in 2015 to support non-profit events and programs that benefit active duty service members, veterans and their families.