Good witch doubles as a choreographer
News | Published on March 16, 2022 at 5:51pm EDT | Author: chadkoenen
0
Junior had three goals in mind when joining the musical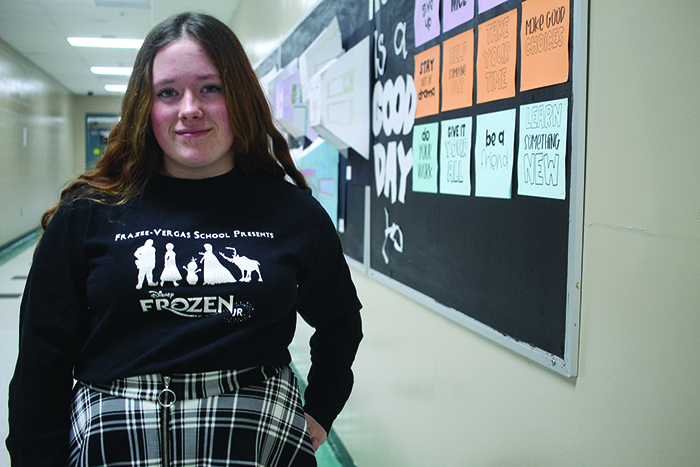 By Barbie Porter
Editor
Alexis Heaton tried out for the role of the Scarecrow in the upcoming production of "Wizard of Oz" at Frazee High School. Instead, she was cast as the good witch, Glinda.
"I'm happy with the part," she said. "I enjoy trying on big puffy dresses and how she is gentle, but has wit."
The character of Glinda made her debut in L. Frank Baum's 1900 novel, "The Wizard of Oz." She is the most powerful sorceress in Oz, ruler of the Quadling Country South of the Emerald City, protector of Princess Ozma and plays a role in his follow-up books in the series.
The high school junior shared the cast watched the famous movie in the early days of practice. She recalled a favorite moment when she was a child being the stop in munckin land.
"I remember being rather impressed by munchkin land and how Glinda arrived in a bubble."

Alexis Heaton
After watching the film as an adult, she realized all the fun details she had forgotten in time, such as Mr. Marvel and going over the rainbow.
Area residents are encouraged to set aside time for the April performances and relive the childhood classic with the actors and actresses at FHS.
Heaton set goals when she joined musical
When Heaton joined the musical she had three goals: to find a niche, improve her people skills, and public speaking skills.
Her niche was combining her singing abilities to the stage: check.
She gained friends with diverse personalities by being involved in the extra-curricular activity: check. "When you are in a play you gain confidence with public speaking," she said. "When you have a lead, you really put yourself out there. I'm used to being on stage and in front of people now. But, I know I can get a lot better."
Heaton may be a recognizable face in the FHS musicals. She was in Aladdin and Frozen. Now, the junior is tackling her third play. She is also returning as one of the three choreographers.
"It is me, Ulma Slevin and Braylee Riewer," Heaton said. "The toughest part of creating the dances is keeping in mind everyone has to be able to do the moves. We also want to portray what is going on, on stage."
Heaton noted her character is not in may of the dance routines on stage, so she has enjoyed watching the visions of the choreographers come to life.